SHARE:
Teamwork Gets Soccer Players Volunteering for Food Recovery
Mighty Oaks players help supply food to homeless population

11/22/2016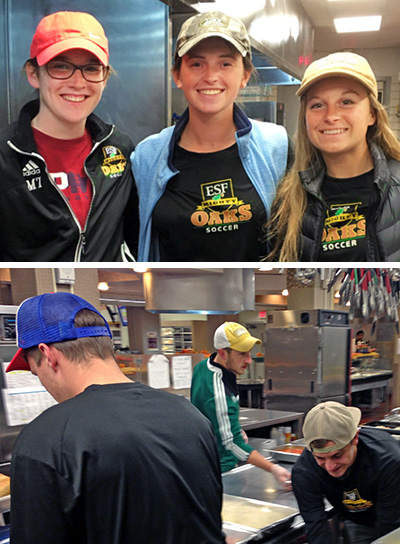 The ESF men's and women's soccer teams spent time together this season off the field and in the kitchen.
The Mighty Oaks soccer program has organized a volunteer effort for student-athletes through Syracuse University's Food Recovery Network (FRN). The FRN program calls on volunteers to package leftover, unserved food from SU's dining halls. At the end of the day, the packaged food is donated to local homeless shelters. The program works to reduce the 40 percent of edible food that is thrown away in the United States each year. FRN donates roughly 6,000 pounds of food per year, and ESF soccer players have logged a combined total of more than 180 volunteer hours during the fall 2016 semester.
The program was introduced to the soccer teams by Lauren Archer, a junior environmental studies major at ESF and starting mid-fielder, who has volunteered with FRN in the past. Despite their busy schedules, many of the student-athletes find the time to volunteer.
Sophomore Nick Vanbennekum, a construction management major and starting center back, said the one-hour time commitment makes it easy to fit volunteering into his schedule. The proximity of the dining halls helps, too, he said.
"It's a close, easy and rewarding way to get involved by physically knowing where the food is going and who it is benefiting," Vanbennekum said.
Volunteers said they enjoy the experience because they are able to help out locally.
Sophomores Megan Steward, an environmental resource engineering major, and Natalee Wrege, an environmental biology major, said volunteering in the Syracuse area is especially rewarding. They also said they are proud to be part of a team that works together off the field.
Many players found they were applying lessons learned on the field to their volunteer work.
Jarrett Temple, a senior natural resource management major and starting left back, said soccer has taught him to show respect and have good sportsmanship. When he plays a team that doesn't have the same skill level as the Mighty Oaks, he said, he doesn't look down on them or pass judgment on them.
"These things apply to the people you meet when volunteering with FRN," Temple said. "They are still people and regardless of their situation, they are good people that just need a bit of a hand."
Geoff Golick, a junior environmental resource engineering major and starting center mid-fielder, said he thinks everybody should spend time volunteering because it makes a world of difference to those being helped.
"A few hours of work in one night can help to bring food to people in need for the better part of a week," Golick said. "It really is wonderful to see how appreciative the people are that are being helped and makes the whole effort worth it."
Recent ESF News
News Archives
Communications & Marketing
SUNY-ESF
122 Bray Hall
1 Forestry Drive
Syracuse, NY 13210
315-470-6644