SHARE:
ESF Celebrates December Commencement
National Geographic photographers, three alumni to be honored during ceremony

12/2/2016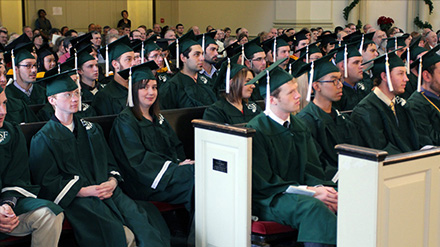 ESF will award 156 degrees, including 48 master's degrees and 14 Doctor of Philosophy degrees, during the 2016 December Commencement 2 p.m. Dec. 9 at Hendricks Chapel.
During commencement the President's Medal will be presented to David Doubilet and Jennifer Hayes, a photographic team for National Geographic. This honor is awarded at the discretion of the ESF president and recognizes individuals who have made extraordinary contributions to science, humanity and the natural world.
Three alumni will also be honored during commencement. Graduate of Distinction Awards will be bestowed upon Dr. Richard A. Birdsey '76, Robyn A. Niver '97 and Theresa L. Evans '09.
Doubilet's and Hayes' photography serves as a universal language creating a visual voice for a fragile and finite world.
Doubilet began photographing the Atlantic Ocean at age 12 when he put his Brownie Hawkeye camera in a rubber anesthesiologist's bag to take underwater pictures. He received his first National Geographic assignment when he was a student at Boston University.
Hayes' passion for the study and conservation of primitive fishes lead to graduate degrees in zoology/marine ecology and evolved into photography and storytelling to document and share her subjects.
Assignments have taken them to the Pacific Ocean's Coral Triangle, Indonesia, Papua New Guinea and the Philippines. They have photographed beneath Africa's Okavango Delta, and under oil and gas rigs in the Gulf of Mexico. The pair has captured the world of ice in Antarctica, Arctic and Eastern Greenland where glaciers are retreating at a rapid pace. Their most recent collaboration, Cuba - The Caribbean Crown Jewels, appears in the November 2016 issue.
Hayes and Doubilet believe images have the power to inform, illuminate celebrate, honor, humiliate and, most importantly, create change.
Birdsey will be honored with the Graduate of Distinction Lifetime Achievement Award. Birdsey, a distinguished scientist with the U.S. Forest Service, retired in July 2016 after an illustrious four-decade career. He received numerous honors from the U.S. government. Most notably, in 2007 he received a share of a Nobel Peace Prize in recognition for his contributions to the Intergovernmental Panel on Climate Change.
Birdsey's research team developed the concept of using forests to help mitigate climate change through sustainable management and pioneered the methodology for monitoring and reporting changes in forest carbon based on national forest inventories, an approach now globally recognized as the best way for nations to report their forest greenhouse gas emissions.
Niver is the recipient of the Graduate of Distinction - Notable Achievement Award. She is a 16-year veteran of the U.S. Fish and Wildlife Service and serves as a senior endangered species biologist. She oversees all aspects of the Endangered Species Act's implementation in New York state.
Niver uses creative, science-based techniques to establish partnerships that work on large-scale projects, assessing potential impacts on listed or proposed species. Niver's species recovery work has included the piping plover, the Chittenango ovate amber snail, the Karner blue butterfly, the Indiana bat and the northern long-eared bat. Niver also serves on a number of regional and national teams studying innovative approaches to conservation, developing state-of-the-art survey methodologies and educating her federal agency counterparts, private businesses and the public on the need to achieve cooperative conservation for these imperiled species.
The Graduate of Distinction - Incipiens Quercu (young oak) Award will be presented to Evans. The award is given to a recent ESF graduate who exemplifies ESF's commitment to environmental stewardship. Evans is an emerging professional with the Onondaga County Resource Recovery Agency (OCRRA). Her main role as a recycling specialist is aimed at helping more than 100 local schools and institutions of higher education achieve outstanding levels of recycling and waste reduction. She established a groundbreaking food scrap recovery effort that is significantly reducing school waste and returning valuable nutrients to local soils through composting. More than 7,000 students in 16 area schools are separating thousands of pounds of food scraps for composting on a weekly basis.
Evans also contributes program support to the New York State Association for Reduction, Reuse and Recycling, and is a board member of Greening USA, a nonprofit organization based in Syracuse that advocates for sustainable communities. The award's name is a nod to the nickname of ESF's athletic teams, the Mighty Oaks, and a tree that is a campus landmark, the Robin Hood Oak.
Student marshals for commencement are Taylor A. Brown and Erika P. Sykes.
Brown is a senior, majoring in environmental resources engineering. She is scheduled to graduate in May 2017. During her time at ESF, Brown has led several campus organizations, including Engineers Without Borders, the New York Water Environment Association and Centennial Hall EcoReps. She also served as an orientation leader and SCIENCE CORPS team member. This past summer, Brown was a Rosen Undergraduate Fellow and lived in Bolivia educating city schools about proper water treatment and sanitation practices.
Sykes is a senior majoring in paper engineering with a minor in management. She will graduate in May 2017. She has been actively involved in the Undergraduate Student Association, holding the position of Board of Trustees student representative and planning ESF's December Soiree and Spring Banquet. Sykes has been an orientation leader since her sophomore year and was head orientation leader for the 2016 Orientation.
Following commencement, a reception will be held in ESF's Gateway Conference Center from 3:30 to 4:30 p.m.
Recent ESF News
News Archives
Communications & Marketing
SUNY-ESF
122 Bray Hall
1 Forestry Drive
Syracuse, NY 13210
315-470-6644