SHARE:
ESF Junior Honored as 'Unsung Hero'
Shewa Shwani to receive award at Dr. Martin Luther King Jr. Celebration

1/26/2017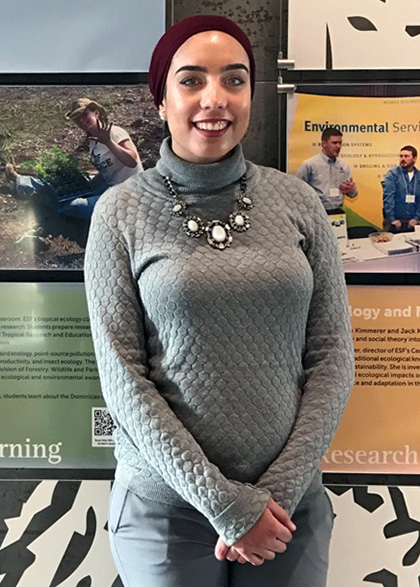 Shewa Shwani has always wanted to help people. Throughout her youth, she spent time volunteering in soup kitchens and helping refugee families acclimate to life in the United States. When she arrived at ESF, she brought her giving spirit with her and found an abundance of ways to reach out to the community.
It is because of her work with the community that Shwani, a junior majoring in biotechnology, is being recognized with a 2017 Unsung Hero Award to be presented at the Dr. Martin Luther King Jr. Celebration Jan. 29 in the Carrier Dome.
Growing up in Liverpool, New York, Shwani observed first-hand the struggles of poverty, homelessness and hunger in Syracuse. When it came time to choose a college, she knew she wanted to stay local and help her community. After touring ESF, her mind was made up.
"I was like, 'I'm coming here!'" she said. "I just love the community - it's so tight-knit. Everyone is welcoming and so open-minded."
During a Chemistry II course her freshman year, Shwani was introduced to the Food Recovery Network (FRN) as a method of volunteering that led to extra credit in class.
FRN is a student-run volunteer organization dedicated to fighting food waste. Members recover surplus food from dining halls and area restaurants and transport it to hunger-fighting agencies such as the Salvation Army and the Dorothy Day House.
Shwani recalled that she showed up late to the first meeting, but she ended up falling in love with the group and its cause. By the end of her freshman year, she was elected president of FRN- a title she continues to hold. The combination of helping the environment by eliminating food waste and helping people by working to combat hunger in Syracuse meant FRN matched seamlessly with Shwani's passions.
"I didn't want to study the animals," Shwani said. "For me, it was about humans and helping people. … I want to heal people with food, that's my long-term goal."
As president of FRN, Shwani oversees the organization through meetings with agencies who are interested in working with the group, leading the FRN executive board and making sure everything is running smoothly.
"For me this isn't a lot of work since this is what I love to do," she said. "FRN is a big part of my life, so I have time to squeeze it in between classes."
Her involvement with FRN extended to her participation last year in the FRN national conference. She was one of the students selected to give a speech about her experience with the group and received funding to travel to Maryland for the three-day conference.
"The trip to Maryland definitely inspired me even more to do work with FRN and give me an idea of what I want to do in my future career," Shwani said. "It felt amazing to be with students and individuals who were fighting for the same cause and who didn't think talking about food 24/7 was crazy!"
Some of the courses Shwani has taken at ESF have taught her about issues such as food deserts, giving her knowledge she can apply to her work with FRN. FRN has also enabled her to go more in-depth while discussing food issues during class.
In addition to FRN and schoolwork, Shwani has volunteered at the Duck Race to End Racism at the Syracuse Inner Harbor, is the vice president of the Muslim Student Association at Syracuse University, organized the inaugural 3k Run for Literacy to raise awareness about literacy needs among the refugee community and holds a work-study job in the Student Diversity and Inclusion Office, among other activities.
Twice a year for the past four years, Shwani has returned to her high school, Cicero-North Syracuse, where she gives a presentation about her Kurdish background and life as a Muslim woman in the United States. She gives a similar presentation, called "There's More to My Story," during freshman orientation events at ESF.
"I've been doing a lot with educating people on different cultures," Shwani said. "That's why I love ESF, because they allow me to do that. I think college and FRN and my life right now have inspired me and made me into a stronger Muslim woman who can take on racism and who can teach people about religion and equality and tolerance."
It was the combination of her work to serve the community and spread awareness about different cultures that led to her receiving the Unsung Hero award.
She was in the library when she received a phone call notifying her that she won the award. She started crying with joy and excitement, she said.
"What's funny is last year I was at the Martin Luther King dinner and when the awardees were being honored, I was like 'That's gonna be me one day.' That was my goal, and my goal came true," Shwani said.
The first person she called with the news was her mom, who has served as an inspiration throughout her life. As a child, Shwani would join her mom in helping refugee families to grocery shop, attend appointments or visit government offices. She credits her mother and her religion, Islam, with instilling a desire within her to help others.
Beyond her mother, Shwani kept the news of her award low-key, but once it was announced publicly, she was met with an outpouring of congratulations and praise.
"It shocks me," Shwani said. "I didn't really know (my work) was that significant. It opened my eyes that a lot of people were thinking that my work with FRN and the community is like what Martin Luther King did and that really was honoring and touching."
Shwani hopes to continue working with the community in the future, possibly opening her own homeless shelter or becoming a doctor who heals patients with food and vitamins.
She credits her being able to attend ESF to some of the many scholarships she has received.
"It really helps ease my pain for paying for college," Shwani said of the awards. "It helps with my education because everyone deserves a good education, especially from a college like this. We are very challenging, we have very hard classes and I'm very honored to attend this school with this beautiful community that surrounds me."
-By Taylor Watson, SU '19
Recent ESF News
News Archives
Communications & Marketing
SUNY-ESF
122 Bray Hall
1 Forestry Drive
Syracuse, NY 13210
315-470-6644