SHARE:
Student from Italy Finds Motivation at ESF
"Here I am constantly pushed to do more"

3/7/2017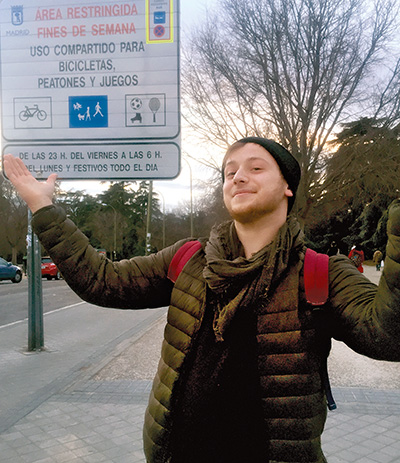 Before coming to ESF in 2014, Alexander Fusi liked science. But once he got to campus, the college turned that "like" into a passion.
"I think the thing that surprises me the most is that when I came here, without even realizing it, I started being a very sciencey kid," said Fusi. "I started to love science even more than I used to. I talked about science to other people, classmates of mine, who were just as ecstatic as I was. I wasn't able to get something like that back home."
"Home" is Florence, Italy, for the junior who is majoring in biotechnology.
"The atmosphere I had back home wasn't as motivating as this," he said.
Fusi applied to a number of colleges in both the United Kingdom and the United States. His mother is employed by SUNY Fashion Institute of Technology (FIT) in the school's international study program in Italy. Said Fusi: "She told me about a school that worked with the environment that was part of the SUNY system." ESF gave Fusi the best offer and he came to the college without seeing the campus until he arrived for his freshman year.
Fusi is a recipient of ESF's national scholarship. "It helps support my stay in Syracuse," he said. "The scholarship covers a decent portion of my tuition. I wouldn't be able to study in the states if was not offered this opportunity."
"I came here thinking it was a state university so it wouldn't be as difficult, academically," he said. Once he arrived, his view changed. "The university turned out much harder than I thought it would be. It's more challenging."
Fusi arrived at ESF as an environmental science major. After working in Dr. Christopher Nomura's lab the spring semester of his freshman year, Fusi realized he enjoyed lab work.
"It kind of grew on me and I really like it," he said. "I like to work on sustainable materials and biopolymers and their use to improve environmental conditions and the production of these materials through micro-organisms and bioprocesses."
"I like the people and the atmosphere that comes along with everyone who comes to this place," Fusi said of ESF. "Here I am constantly pushed to do more things."
Coming from a city where the average winter temperature is 50 degrees F (10 degrees Celsius), Fusi acknowledged that Syracuse's sometimes sub-zero temperatures qualified as a drawback for ESF. But the biggest adjustment wasn't the weather or even the classwork - it was the eating habits of many of his fellow students. "I used to eat healthy and then I saw the buffet in the dining hall - and bacon, and realized the gym was my best friend after that."
"I'm happy with the atmosphere, the people, the professors, the subjects," he said. "It's very different from Florence. People here are a little bit more welcoming and open."
Recent ESF News
News Archives
Communications & Marketing
SUNY-ESF
122 Bray Hall
1 Forestry Drive
Syracuse, NY 13210
315-470-6644