SHARE:
Daily Adventures Mark Trip to South America
Rosen Fellowship funds experience of a lifetime

3/7/2017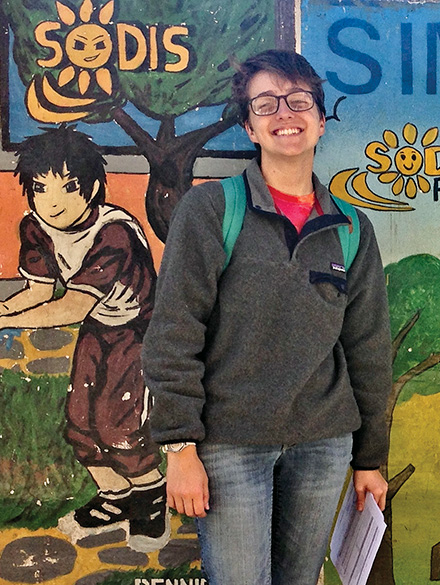 "No day was typical. Every day was an adventure," said ESF senior Taylor Brown of her internship in South America.
Brown, an environmental resources engineering major, spent last summer in Bolivia educating city school students about proper water treatment and sanitation practices. As an ERE major, she expected to be participating in hands-on engineering projects, but she found the outreach work equally interesting.
With the support of a Rosen Undergraduate Fellowship from ESF, Brown worked for the SODIS Foundation, an organization dedicated to bringing safe drinking water to people who don't have access to the resource. The foundation is named after the water treatment process - solar water disinfection: SODIS.
Brown joined Engineers Without Borders (EWB) as a freshman and found she was interested in the human impact that engineering can have and she wanted to experience living in a developing country.
"It's hard to get a position in that field with a non-governmental organization right out of school," she said. So she set about gaining the experience she would need. In January 2016, she searched for internships abroad and found Sustainable Bolivia, an organization that partners with different agencies to offer internships. Through Sustainable Bolivia, Brown found the internship with SODIS.
There were eight other interns in the program, all from different countries, she said, and hearing three different languages all at once was not unusual. Brown spoke a little Spanish when she arrived in Bolivia and learned a lot more through the summer.
Brown's day involved making phone calls to area schools and setting up appointments to introduce the students and staff to a safe water project for schools in the central Bolivia city of Cochabamba. She taught about techniques for reducing disease - handwashing, chlorinating to disinfect the water, using soap in the classroom and using individual cups for drinking.
"Unfortunately, the schools weren't always compliant," she said. The children would often waste the soap and it was up to Brown to figure out logistically how to make the system work.
"It wasn't as much engineering as I thought it would be," she said. Much of the work involved monitoring and evaluating the program. "It was good to see the practical side of it," she said. "Are people actually going to do what you say?"
"The internship … was worth it for the international cultural experience and the chance to make connections," she said.
While in Bolivia, Brown was able to connect with an EWB group from Cornell University that was working on a bridge project. She spent three days with them building a bridge.
Brown credits the Rosen Undergraduate Fellowship program for making her internship possible. "I wouldn't have been able to afford it," she said. "I am forever grateful to the Rosens."
She has a piece of advice for other ESF students: "I think everyone should try to apply for a Rosen (fellowship) if you're passionate about something."
Recent ESF News
News Archives
Communications & Marketing
SUNY-ESF
122 Bray Hall
1 Forestry Drive
Syracuse, NY 13210
315-470-6644