SHARE:
USA President Focuses on Building Relationships
Ben Taylor leads 'growth year' for student government

3/6/2017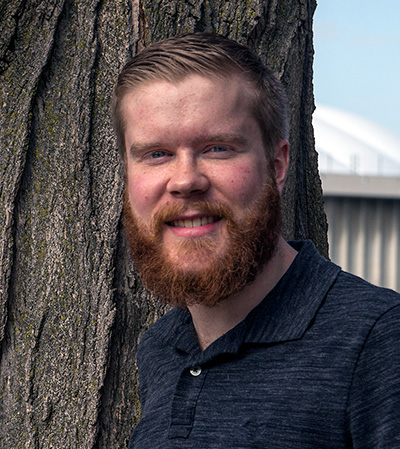 Ben Taylor has lunch with a different person every Wednesday. As president of the Undergraduate Student Association at ESF, he wants to build relationships with people in the community.
Taylor, a junior at ESF, knew he wanted to attend a school where he would have opportunities for leadership and service, and to build close relationships within the community. ESF has always been on his radar: Taylor's father, Steven Taylor, is a member of the Class of 1992.
Growing up in Panama, New York, just south of Buffalo, Taylor spent his a lot of time hunting, skiing and doing yard work. His love of nature, combined with his fascination with building "contraptions," led him to major in environmental resources engineering, the same field his father studied.
As an active participant in many high school activities, Taylor was looking forward to exercising his leadership skills at ESF. During his first semester on campus, he became a first-year class senator in USA. He planned a freshman class mixer, but only 12 people showed up. That didn't deter him; he wanted to become even more involved in USA. Taylor decided at the end of his freshman year that he would run for vice president.
He was elected and later called his time as vice president a "growth year" for the association. Roles for some officers, such as chief communications officer and chief financial officer, were formalized. USA leaders updated the bylaws and constitution, lengthened meetings and hosted a resolution-writing workshop. Taylor attributed this progress to having a lot of passionate people involved, and he said this inspired him to run for president.
"This role requires me to be accessible on campus a lot," Taylor said. "But it is also a privilege and a deep honor that I have, to be representative of the students on the campus to basically everybody outside of ESF."
This year, more people -- 50 to 60 -- attend the weekly, 90-minute USA meetings. Taylor said the increase in attendance is one of the accomplishments he is most proud of this semester.
"I think that people genuinely enjoy being at USA meetings," Taylor said. "We keep them moving, there is a lot of information and a lot of opportunity for people to step up and get involved."
Under his presidency, Taylor said the student association is fun, open and accessible for students. USA is exploring initiatives that include increasing campus accessibility, renovating Alumni (Nifkin) Lounge, developing a sexual assault awareness program and developing ESFgo, an app that aims to be the hub of student information on campus.
The student association is also working on an energy-saving initiative to reduce elevator and handicap-accessible door usage on campus. Each time someone rides in an elevator, it costs about 25 cents' worth of electricity, Taylor said. The campaign encourages students to take the stairs because it is better for their health and for the earth.
Watching students work together on initiatives to better the campus is one of the reasons Taylor wanted to be part of USA.
"I love seeing a group of people get together and do something that they are passionate about," Taylor said. "At ESF, the student association is passionate about ESF students and what ESF students care about. Anything we do is all around, 'Is this decision the best for ESF students?'"
In addition to his work with USA, Taylor serves on a leadership council alongside ESF President Quentin Wheeler and other members of the College leadership team, and holds a work-study job at the Computing and Network Services HelpDesk. He has also served as an orientation leader since his sophomore year.
Over breaks, Taylor maintains a demanding schedule by working on his great-uncle's maple farm - a 17,000-tap maple syrup operation called Merle Maple in Attica, New York. He is the sixth generation of his family to work in the business and said he is interested in working on the farm when he graduates. He aspires to take over the business one day. On campus, Taylor is known as the "maple guy."
"It's kind of my thing," Taylor said of his nickname.
Taylor is minoring in management and hopes to put that knowledge toward running the maple farm.
He credits his ability to be involved with extracurricular activities while remaining focused on school to the many scholarships he has received, including ESF's Presidential Scholarship.
"The ESF scholarship has significantly helped me with being able to attend ESF," Taylor said. "Because of my scholarships I have been able to stress less about finances and work less on campus, which is why I can dedicate more time and energy to ESF students."
To budget his time, Taylor separates his life into four areas that are important to him: school, church, his work at CNS and his involvement with USA.
"Everything that I do pretty much goes into those four categories," Taylor said, "I try not to say yes to anything outside of those."
Taylor also keeps a strict calendar and to-do list. He wakes up at 6 a.m. on weekdays to have coffee, a good breakfast and time to be technology-free before he dives into the day's work.
Since the fall of his sophomore year, Taylor has set aside a 24-hour period each week in which he doesn't do homework or make any plans. To carve out that free time, Taylor said he works hard during the week.
"I have everything done for Monday by Saturday. And that really transforms your week," Taylor said. "My Mondays are better, and when your Mondays are good, your week is good."
- By Taylor Watson, SU '19
Recent ESF News
News Archives
Communications & Marketing
SUNY-ESF
122 Bray Hall
1 Forestry Drive
Syracuse, NY 13210
315-470-6644