SHARE:
Diverse Backgrounds Help 2 Grads Connect with Prospective Students
Recent alumni take on roles as admissions advisers

3/7/2017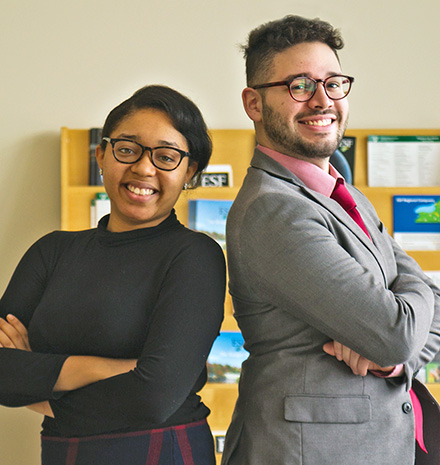 "With my science background I'm able to explain more about what goes into the ESF experience, and I'm able to give the big picture because I went through that big picture," said Rhea Joseph, a 2016 graduate in environmental chemistry who now works as an ESF undergraduate admissions adviser.
Joseph and Christopher Maldonado, who is also a member of the Class of '16, joined the admissions staff soon after graduation in positions that will last at least through this spring. They see their undergraduate experiences and diverse cultural backgrounds as benefits when talking with high school students who are looking at colleges.
Joseph was one of two women to graduate in her program. "That in itself was an experience just to be in a major that doesn't have many females. Being a woman as well as one of color in STEM, I feel I have an obligation to encourage girls to pursue degrees in hopes to increase women and women of color representation," she said.
Joseph and Maldonado are accustomed to being asked why they became admissions advisers after obtaining science degrees. "Making more students aware of opportunities in this field is very important," said Joseph.
"I didn't graduate planning on doing this, but when I saw the opportunity I definitely understood the value of it," said Maldonado, who studied environmental and forest biology. "There were only a few Puerto Rican males on campus when I was a student, even though an environmental education would be of significant use in Puerto Rico," he said, alluding to the island's energy and debt crises, poverty levels and sustainability issues.
"Not a lot of college reps are minorities," said Joseph. "So at college fairs, even if a minority student isn't interested in ESF, they'll come up to us and say hi. It's like that mutual respect you already have for each other. You already know what they're going through; we're just at different stages of life."
Maldonado said minorities sometimes have an approach to college and career planning that is unique to their culture, especially those of lower income. For Puerto Ricans and many other cultures, "children are expected to one day take care of the parent(s), so the occupation of the child is important," he said. "Hispanics or Latinos are often pushed to be as successful as possible. Often, reminding their children of how wonderful it would be for them to become doctors, lawyers, business people - things that have nothing to do with the environment or STEM in general.
"I am a proud, out, gay Puerto Rican environmental biologist, or at least scientist, and being able to take all those perspectives and understand the value of the field … I am able to connect to many different students," said Maldonado.
"I've already had at least three Puerto Ricans who were excited when I talked with them about issues in Puerto Rico and about how these programs are going to help solve those issues," he said. Once he has engaged a student, Maldonado explains that his long-range plans involve returning to Puerto Rico with his current and future degree to help solve the economic, political and environmental problems.
"This is when the parents become excited about the future of an environmental career," he said.
Joseph also likes to tap into current events to connect with people. The water crisis in Flint, Michigan, allowed her to illustrate the need to look at problems from both scientific and human standpoints.
"By bringing up Flint, and other similar situations in low-income and minority communities where people are being negatively affected - but may not be aware or understand how - having that conversation and making those connections to why pursuing degrees in an environmental-related program is important is everything to me. It solidifies why I'm doing this, why I'm in this field and it's just wonderful. … I definitely get students thinking about, 'Wow, I could go into this,' or 'I never thought of it that way.'"
Maldonado had a similar experience at a college fair on Long Island while talking to a mother and daughter. Although the mom had financial concerns, she was excited about what her daughter wanted to study. She then asked Maldonado about his background.
"So I do my little bio - in science and helping Puerto Rico - and she freaks out: 'Oh my God we're Puerto Rican, also!' And she starts talking to her daughter in Spanish all of a sudden … essentially saying, 'See, you can bring this to Puerto Rico, this is going to be great, so happy for you. I'm so excited for you!' Experiencing that sudden shift in perspective from worry to excitement and the newly formed trust and support between the two, that was when I thought, 'I like what I'm doing.'"
Even if students aren't looking for an environmental program, Joseph said, she grabs the SUNY viewbook and shows them programs within the system. "There's just a happiness of talking to each other. It feels good. It feels great. I want them to be where I am or feel how I feel about where I am. They don't have to do admissions work, but they can get to something that makes them feel as happy as I do right now."
Recent ESF News
News Archives
Communications & Marketing
SUNY-ESF
122 Bray Hall
1 Forestry Drive
Syracuse, NY 13210
315-470-6644