SHARE:
Academics, Athletics, Affordability Lure Soccer Captain to ESF
Heather Carl makes her mark on campus

3/9/2017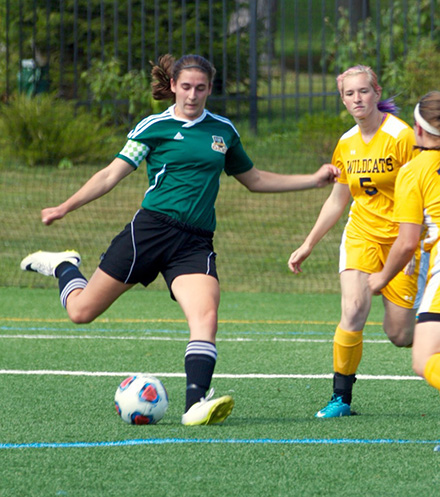 Heather Carl began her college search with three criteria in mind. She wanted a good environmental program, a competitive soccer team and affordability.
When she toured ESF, she was immediately charmed by the campus community. Being on the campus felt like being at home, she said, as everyone was kind and open-minded.
"Everyone comes from different backgrounds and everything, but when we are here, everyone cares about the environment," Carl said, "so we all have something in common."
Carl, who is from Westerlo, New York, southwest of Albany, was also drawn to the variety of majors offered at ESF.
"I knew I wanted to do something environmental-related - I didn't want to be stuck at a desk all day," she said. "But, I didn't know exactly what I wanted to do and ESF just had so many options that if I got here and didn't like exactly what I was doing, I could always switch to something else that interested me."
When Carl discovered she was a recipient of the Presidential Scholarship at ESF, her decision was made. ESF was the best choice for academics, soccer and finances.
Now in her senior year as a natural resources management major, Carl has made a name for herself on campus.
As a two-year team captain and the only senior this past season on the ESF women's soccer team, Carl led the group to the USCAA National Championship tournament in Virginia Beach, Virginia, this fall - marking her fourth trip to the tournament in her four years at ESF. The Mighty Oaks made it to the championship game for the first time in ESF history, and Carl, a center midfielder, was named to the All-Tournament team - an award given based on performance throughout the entire season.
As a freshman, Carl had received honorable mention at the USCAA National Championship tournament. Her sophomore year, she was surprised to earn the first-team designation, which she has been awarded each year since. She is a three-time academic All-American, as her cumulative GPA was over 3.5 each time she was awarded. Last spring, Carl was honored with the SUNY Chancellor's Scholar-Athlete Award, which is given annually to one female soccer player chosen from all 64 SUNY schools.
Carl's activities extend well beyond the soccer field. During her sophomore year at ESF, she excelled in a public presentations course and her professor asked her to serve as a tutor in the Public Speaking Lab. There, she helped students with presentations, PowerPoints and speaking techniques.
She also served as a camp counselor at Camp Abilities, a camp for blind and visually impaired children. Carl has been a counselor during both summer and winter sessions, encouraging campers' participation in activities such as kayaking and snowshoeing.
"Working with the campers is sometimes challenging," Carl said. "(But) the experiences have been beyond rewarding for me. The campers are an inspiration to try new things and just have fun no matter what life throws at them."
She became involved with ESF's Earth Week celebration as a sophomore member of the planning committee. In her junior year, she served as head of the tie-dye committee and was tasked with organizing volunteers and ordering supplies. She plans to be involved with the tie-dye committee again this year.
Carl spent last summer in Colorado as an intern for the U.S. Forest Service. There, she talked with park visitors about regulations and the history of land use. Her internship contributed credits toward her recreation resources minor at ESF.
In November, she was awarded the Prigoff Scholarship, which is given annually to seniors with the top 16 GPAs in the natural resources management major.
Carl serves as the senior class chair in the Undergraduate Student Association and is in charge of organizing a senior class mixer and the senior class gift.
She is also an undergraduate teaching assistant in Professor John Wagner's forest management decision making and planning course. Carl writes exams, grades homework assignments and teaches lab sections when the professor is not available.
"I find teaching other people is a really good way of learning things, so it definitely helps me," she said of her work as a TA.
To maintain her grades while participating in extracurricular activities, Carl learned to compartmentalize her time.
"I've learned over the years that I definitely have to set aside time for homework and then time for friends," she said.
After graduation, Carl hopes to work a recreation-related job. She is interested in park management and educating park visitors, but is also considering going into recreation therapy, adventure recreation or law enforcement as a DEC environmental conservation officer.
- By Taylor Watson, SU '19
Recent ESF News
News Archives
Communications & Marketing
SUNY-ESF
122 Bray Hall
1 Forestry Drive
Syracuse, NY 13210
315-470-6644