SHARE:
ESF Education a Family Affair for Schiavone Brothers
Three siblings share a major and a graduation date

3/29/2017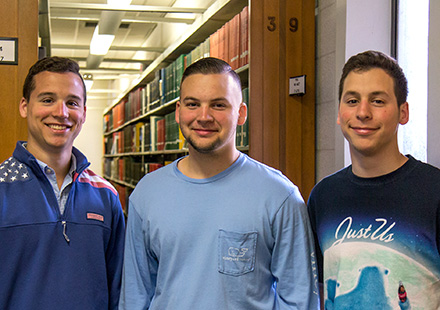 Next spring, three ESF diplomas will bear the Schiavone family name.
While strong family ties to a particular university are not unusual, the Schiavone connection to ESF is unique. Brothers Chris and Cameron joined the college community in fall 2014; Eric, their younger brother, followed a year later.
The Schiavone brothers did not have to look far to discover ESF. They grew up in East Syracuse and attended high school just 10 miles from campus. Chris and Cameron, who are now juniors, were introduced to ESF through soccer-specifically through their ties to the professional indoor soccer team, the Syracuse Silver Knights. "We were volunteering at a game and started talking to Jon Ramin, ESF's associate soccer coach at the time," recalled Cameron. "He told us about the school and got Chris and me interested in coming to play soccer."
When Chis and Cameron started the college application process, ESF was high on both their lists. "It's a really great school, it's local and has SUNY tuition rates, which is great," said Cameron. While Cameron considered several military colleges and academies before deciding on ESF, Chris applied early decision. "I chose ESF because it offered me the chance to go to a top-tier college that was affordable, had a great reputation in the sciences and was right in my backyard," explained Chris. Both brothers entered ESF's new environmental health undergraduate program to study the interaction of human health and the environment.
Eric, now a second-year ESF student, was originally intent on pursuing a general business degree from a large state university-that was, until he discovered the advantages of an ESF education. Eric realized that the school offered him the opportunity to learn the basics of business and management while also pursuing other areas of interest, such as health and medicine. Upon his arrival at ESF, Eric joined his brothers in the environmental health program. Although technically a sophomore, the youngest Schiavone brother is on track to graduate in spring 2018. "I came in with a lot of credits," he explained, "and everything has just lined up to allow me to finish in three years."
The brothers had no reservations about attending the same school at the same time. In fact, they found it difficult to imagine a more ideal scenario. "Chris and I wanted to go to the same college," said Cameron. "It would have been really hard to go to different schools; we've had every class together since the ninth grade."
The oldest Schiavone brothers-who are triplets with sister Cailey-have been close their entire lives. "Those two even had the same high school GPA down to the hundredth of a point," remarked Eric. Today, all three brothers live and study together on campus, work together in the summers and play soccer together. Although they no longer play for ESF, the Schiavones participate in a local indoor soccer league with friends from home. "On Sunday nights we just goof off with our friends, play soccer and have fun," said Chris. With regard to his thoughts on attending ESF with his older brothers, Eric remarked simply: "It's a blast."
The Schiavone brothers are ambitious and proactive. Chris and Eric both aspire to attend business school to earn an MBA. Their long-term goals are to secure high management positions at a hospital or health facility. Cameron plans to pursue a career as a United States uniformed serviceman. Next year, he will apply to the Coast Guard Officer Candidate School program or the U.S. Public Health Service Commissioned Corps (PHSCC)-a team of highly qualified public health professionals dedicated to protecting, promoting and advancing the health and safety of the nation. The PHSCC is particularly appealing to Cameron. "There is an environmental health component of the Commissioned Corps. As a public health officer I would work with different government agencies to provide environmental health services to people in need and offer aid during emergencies and natural disasters," he said.
The Schiavones are aware of the increasing demand for environmental health professionals. "For me, the best thing about being an environmental health major at ESF is that I am confident I will have a job," said Eric. "I feel like the career possibilities with a degree like this are endless," added Chris. ESF's B.S. in environmental health program welcomed its first students in 2014. The program is currently in the process of gaining accredited status from the National Environmental Health Science and Protection Accreditation Council. Once completed, ESF will house one of only 30 accredited undergraduate programs nationwide. Accreditation will have a significant impact on Cameron's career goals, as a bachelor's degree from an accredited program-or a program in the process of receiving accreditation-is required to become a PHSCC environmental health officer and for appointments in some other uniformed services.
In addition to fulfilling the environmental health program's rigorous course requirements, the Schiavones have dedicated themselves to activities geared toward advancing their prospective careers. During his freshman year, Cameron interned at ClearPath for Veterans-Upstate New York's veteran resource center-to gain experience in a healthcare environment and learn from experienced U.S. service members. Working with health professionals, Cameron learned the value of an integrative approach to restoring the emotional and physical well-being of military members, veterans and their families. "ClearPath was a great opportunity," he said. "I became very close to a retired Special Forces master sergeant, who basically became my military mentor. The internship helped me to gain connections and experience, and to make great friends."
This semester, Chris and Eric began a long-term internship-focused on hospital management and operation-at Upstate Medical University. They are tasked with developing and implementing a campaign to increase influenza vaccination among the university's health care personnel. "Right now we are mostly interviewing members of the hospital community, collecting data and strategizing," said Eric. "Things will pick up in the fall during vaccination season, when the campaign really needs to make an impact," said Chris. The brothers will continue to tackle this challenge for the next 12 to 18 months.
The Schiavone brothers agree that several key factors set ESF apart from other colleges-particularly, the opportunities and support offered to students, and the school's location. "At a lot of other schools, undergrads don't take the chance to do research or internships, but we are required to do an internship to complete our major," said Chris. According to the brothers, finding a worthwhile internship is easy with faculty assistance. "The advisors are great; they continually shoot a bunch of internships your way, so you are practically guaranteed a position that fits your interests," said Eric. For students interested in healthcare occupations, ESF's location offers unique benefits and opportunities. "It works out really well for Chris and I because the hospitals are so close and the faculty is so well-connected to the medical community," said Eric.
Chris, Cameron and Eric have all benefitted from the guidance of their environmental health adviser, Dr. Lee Newman, associate professor of environmental and forest biology. "Dr. Newman knows everyone," said Cameron. "There are not a lot of people involved in the military at ESF, but Dr. Newman knew my interests and introduced me to the Commissioned Corps." Chris and Eric also expressed gratitude toward their adviser for helping them to secure their internship. "All we had to do was tell her our career interests," said Eric. "Within a day she had emailed a contact and within two weeks we had a meeting lined up."
Although the Schiavones did not qualify for need-based financial aid, Chris, Cameron and Eric each received generous scholarships. "It's amazing that three brothers are all in school at the same time and can all afford it," said Eric. All three were awarded merit scholarships through the ESF Presidential Scholarship Program, which provides grants to high school seniors with outstanding academic credentials. "As long as we maintain a 3.0 GPA, the award will continue to reduce our tuition by $3,000 a year, which is really great," said Chris. As sophomores, Chris and Cameron received grants-totaling $1,000 and $2,000, respectively-from the Syracuse Builders Exchange scholarship program. The students also benefit from ESF's Student Housing Scholarships, created to offset the costs of room and board. As residents of Centennial Hall, Chris and Cameron each received $2,500 and Eric received $1,500 in program grants.
Next year, Chris, Cameron and Eric Schiavone will depart ESF with valuable degrees in environmental health, career experience and connections, and a renewed definition of home.
Recent ESF News
News Archives
Communications & Marketing
SUNY-ESF
122 Bray Hall
1 Forestry Drive
Syracuse, NY 13210
315-470-6644