SHARE:
Maureen Mahle Named Green Building Advocate of the Year
Dedication to environmentally friendly building honored

3/31/2017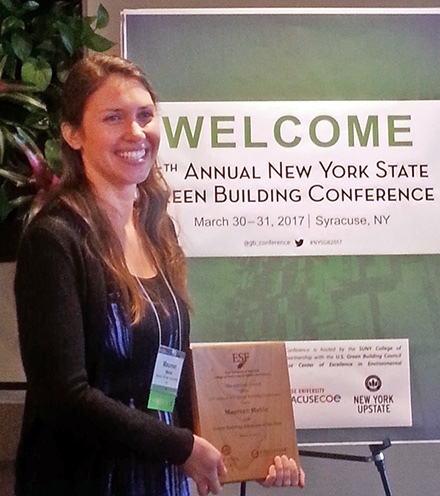 Maureen Mahle was honored as Green Building Advocate of the Year during the 2017 New York State Green Building Conference in Syracuse.
Mahle is vice president and director of sustainable housing services with Steven Winter Associates (SWA), a consulting firm specializing in technologies that reduce the environmental impact of buildings. Mahle is an engineer and specialist in high-performance homes. As VP and director of sustainable housing services, she oversees the department that advises developers on new residential buildings.
She manages SWA's work as a provider for the USGBC LEED' for Homes™ program. She has approved more than 4,000 housing units in 10 states for certification under the program since 2005, and is currently overseeing the certification of more than 5,000 residential units in New York, New Jersey, Connecticut, Massachusetts, Maryland, Washington D.C. and Virginia.
Under her leadership, SWA has piloted several LEED programs for the USGBC, including LEED for Homes and LEED for Homes: Multifamily Mid-rise adaptation. Mahle serves as the vice chair of the national LEED Technical Committee and a member of the residential representative to the national LEED Steering Committee. Past volunteer positions have included chairing the LEED Mid-rise Working Group and serving as a key member of the LEED for Homes v4 Working Group charged with updating and revising USGBC's rating systems. She has also served on the board of directors of Home Energy Magazine.
Mahle has supported SWA's building science research as the lead member of the Consortium for Advanced Residential Buildings, a U.S. Department of Energy Building America research partner, and as a key member of the Partnership for Advanced Technology in Housing funded by the U.S. Department of Housing and Urban Development. Her specializations include inspections, testing, analysis and information dissemination of hurricane-resistant housing, panelized construction technologies, and high performance heating, cooling, domestic hot water and ventilation systems.
The award is presented by the NYS Green Building Conference Advisory Council to an individual actively involved in green building and its supporting disciplines, either in a professional or volunteer capacity, and prominent in promoting the need to reduce the overall impact of the built environment on humans and the natural environment.
Recent ESF News
News Archives
Communications & Marketing
SUNY-ESF
122 Bray Hall
1 Forestry Drive
Syracuse, NY 13210
315-470-6644