SHARE:
ERE Major Builds Lengthy Resume at ESF
Tight-knit community, real-world experience made college stand out

4/18/2017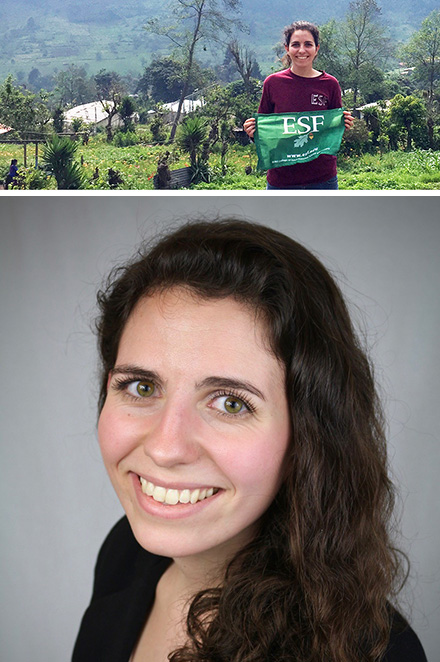 For Kristina Macro, a senior from Amherst, New York, the decision to attend ESF "made perfect sense." She discovered the college while researching environmental schools in the Northeast.
"I chose ESF because it felt like a real community," she said. "I liked the fact that it's a small school, but you have access to resources at SU." She also identified with the college's mission and shared values. "It seemed like a place where everyone was trying to make the world better in some way," said Macro.
On campus, Macro found a home in the Department of Environmental Resources Engineering. "I was drawn to the problem-solving and design aspects of this kind of work," she said. "It's also a growing field, so I knew the job outlook was good."
During her time in the program, Macro has developed a particular interest in water resources engineering. "I think green infrastructure is a great approach to water management and now is a great time to get into that type of work," she said. "I'm also interested in overall watershed management. It would be cool to get involved in initiatives to prevent pollution in places like Onondaga Lake."
ESF's accredited undergraduate ERE program is, according to Macro, tight-knit and highly supportive. "We all have great relationships with the professors," she said. "They are always there for us, and I always feel comfortable asking questions or seeking advice. They aren't just caught up in their own research; they really care about their students and want us to succeed."
Macro has continuously demonstrated academic excellence and dedication to the ESF community. She has been on the President's List since 2013, and is a member of the ESF Honors Program, the National Academy of Engineering Grand Challenge Scholars Program (NAE GCSP) and Alpha Xi Sigma. She has served as a student assistant in ESF's Outreach Office, a peer tutor and a teaching assistant for general chemistry and biology.
Since her freshman year, Macro has sought opportunities to gain practical engineering experience and make tangible contributions to society. In an effort to direct her college experience toward addressing real-world issues, Macro applied to the GCSP-an academic model used to prepare future engineers to take on major challenges facing humanity in the 21st century. Accepted students conduct research, explore interdisciplinary coursework, gain an international perspective, engage in entrepreneurship and give back through service learning. Macro chose to concentrate on providing access to clean water, and on restoring and improving urban infrastructure. "The program provides a general focus for my time at ESF and a roadmap on how I can address important issues in a meaningful way," she said.
Macro gained real-world experience in scientific research through the National Science Foundation's (NSF) highly competitive Research Experience for Undergraduates (REU) program.
Last summer, she conducted a stream restoration research project at New Mexico State University under the Reinventing the Nation's Urban Water Infrastructure REU program. The project focused on evaluating the use of clinoptilolite zeolite to restore native vegetation in riparian areas near the Rio Grande. Macro summarized her findings in a report titled "Stem Water Potential in Desert Willow Grown in Clinoptilolite Zeolite and In-situ Riparian Soil," and she will present the research for her senior Honors thesis.
Macro has also completed numerous service projects through ESF clubs and organizations. She is president of the ESF Engineering for a Sustainable Society (ESS) student chapter, vice president of the New York Water Environment Association (NYWEA) student chapter, vice president of the ESF Engineers Without Borders (EWB) student chapter, and ESF liaison for the Society of Women Engineers (SWE) Syracuse University chapter. Additionally, she is a Making Strides Against Breast Cancer team leader
"All of my service work has been really rewarding, but my involvement with EWB has been particularly impactful," said Macro. EWB is a national organization that works to build strong, sustainable communities around the world. As a member of the ESF student chapter, Macro has collaborated with the EWB Syracuse professional chapter to develop a sustainable latrine project in Las Majadas, Guatemala. "Last May, I went to Guatemala for the project's implementation stage," she said. "Having the chance to actually go to a community and see a plan come to fruition is very rewarding."
Macro has also worked to serve communities closer to home, participating in several projects through ESS-a student-initiated university chapter of EWB that focuses on local design initiatives and international projects outside the scope of EWB. "ESS is another really great organization that allows me to do actual engineering work out in the real world," said Macro. "We installed a rain garden at the home of a Syracuse resident and created an herb spiral (a type of herb garden)."
Although women outnumber men in ESF's senior ERE class, Macro recognizes that in the professional world, engineering remains a largely male-dominated field. "I think it is so important to have both male and female perspectives and approaches to solving problems," she said. "That's why I joined SWE. It's such a great resource; I've gained a lot of mentors and had the chance to hear about their unique experiences working in a variety of disciplines."
Macro received scholarship support from sources within and outside the ESF community.
"In the spring, I will be graduating debt free," she said. "This is due partly to the affordability of a SUNY education and partly to the financial support I've received from the College and different professional organizations."
Macro received an Alumni Memorial Scholarship, a Presidential Scholarship and a ERE Department Scholarship-all ESF grants awarded on the basis of scholarship, service and character. She has also received funding from NYWEA, the Air and Waste Management Association, the Janet H. Griswold Memorial Scholarship program, the O'Brien and Gere Scholarship and the NSF Environmental Scholars program.
In the fall, she will begin pursuing a master's degree through the University at Buffalo. She plans to concentrate in environmental and water resources engineering. Macro has been awarded the Arthur A. Schomburg Fellowship, sponsored by the SUNY Office of Diversity, Equity and Inclusion. She has also accepted positions as a teaching assistant for the fall and a research assistant-working on storm water modeling and green infrastructure projects-for this summer.
As Macro prepares to depart ESF this spring, she is certain of one thing: "I 100 percent stand by my decision to attend ESF."
- By Kate Hill
Recent ESF News
News Archives
Communications & Marketing
SUNY-ESF
122 Bray Hall
1 Forestry Drive
Syracuse, NY 13210
315-470-6644