SHARE:
Life at ESF Lures Student from San Francisco
Environmental science major finds spot among 'crazy smart, crazy cool' student body

4/12/2017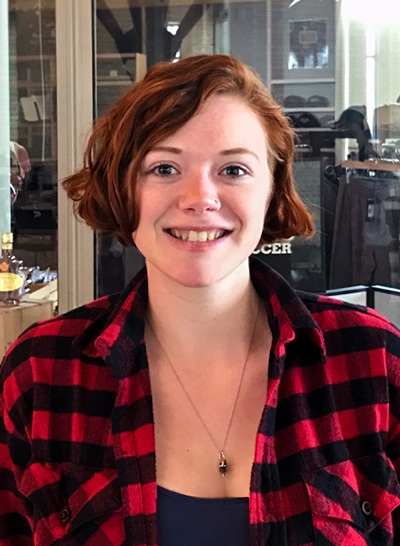 Sierra Coathup moved from a 7-square-mile town in Vermont to San Francisco, California, before her freshman year of high school. It was there, in a major West Coast city far from the forests of the Northeast, that her love for the environment was launched.
She was inspired by the city's green efforts - such as curbside composting - but disturbed by people who showed disregard for the environment as they littered fast-food wrappers along the streets.
Coathup decided she wanted to pursue higher education in an environmental field so she used the search engine on the College Board website to find a college. The first school that popped up was ESF. She had never heard of it, but her father was excited because he had considered attending ESF's Ranger School when he was younger.
She drove with her father, who lives in Vermont, to visit ESF. Though she came during the students' Spring Break, Coathup was able to get a glimpse of life at ESF. After learning more about ESF's campus life, academic programs and affordability, she decided it was the right match for her.
Coathup received a National Scholarship from ESF.
"It allowed me to come here," she said of the scholarship support. "And it worked out really well because I loved ESF's program."
Coathup, a sophomore, is majoring in environmental science with a focus on the watershed science option.
Before arriving on campus, Coathup was warned that Biology 1 would be a demanding course and she tried to prepare during the summer. The course was difficult, she said, but knowing that she could make it through that course helped prove that she could make it through any future difficulties.
Coathup said she was nervous about coming to ESF, but once she arrived for a week-long orientation, the campus felt "family-esque." She turned that experience into her current role as an Orientation Leader.
"Orientation here is the funnest thing ever, it's not like any other school," she said. "It's like a week-long summer camp."
By the end of that week, Coathup said, students have made at least one friend. Coathup occasionally reconnects with the students who she led through orientation, and said she enjoys watching them become comfortable within the school. One of the students joined the Undergraduate Student Association, and she said she encourages him to further his involvement with the program.
Being an orientation leader exposed Coathup to the variety of students who attend ESF, and she described them this way: "There are a lot of good people here. They are crazy smart and crazy cool and you wonder if they ever sleep."
Coathup further engages with the ESF community through her job with the Annual Fund, which means she calls alumni to update them on the happenings at ESF and to ask them to support the college financially.
"You have really great conversations with people," she said. "You tell them what you want to do and they'll give you tips, or they'll tell you what they've been doing, which is really exciting."
Coathup spends her Fridays volunteering with the Student Environmental Education Coalition, a group of students who visit Dr. King and Seymour elementary schools in Syracuse to teach students about the environment. She taught a lesson on bubbles and introduced students to the concept of air molecules and how wind works.
In between classes and activities, Coathup runs an Instagram account called "Squirrels of ESF" as a tribute to the number of squirrels found hanging out on the ESF campus. The account has over 100 followers.
After obtaining her degree, Coathup said, she hopes to do outreach or education work. She said she doesn't want to work in a lab; she'd rather increase people's understanding of science.
"(Science) is very scary when you don't know it, so you need people who know it and are good at explaining it," she said. "It should be something that is accessible and not something people are scared of."
- By Taylor Watson, SU '19
Recent ESF News
News Archives
Communications & Marketing
SUNY-ESF
122 Bray Hall
1 Forestry Drive
Syracuse, NY 13210
315-470-6644