SHARE:
Renowned Alumnus to Deliver Chemistry Centennial Lecture
Ronald Eby helped develop life-saving Prevnar vaccine

4/20/2017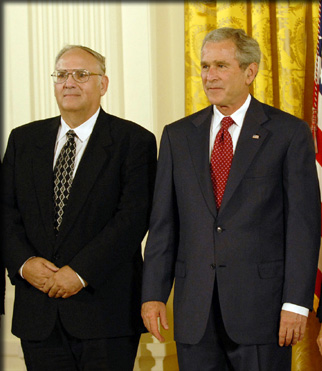 Dr. Ronald Eby, an ESF alumnus who received the 2005 National Medal of Technology and Innovation for his role in developing the Prevnar vaccine, will speak April 26 at the Gateway Center.
Eby will deliver the Centennial Lecture for the ESF Department of Chemistry, which was founded in 1917. His presentation, "From the Stepwise Synthesis of Oligosaccharides to Prevnar: The Story Behind the Life-Saving Pneumonia Vaccine," will be at 5 p.m. in Room C of the Gateway Conference Center.
Millions of children across the world have had an opportunity to grow up healthy because of Eby's contributions.
He devoted his career to developing vaccines that targeted illnesses in children. He was part of a team at Praxis Biologics (which later became Wyeth) in Rochester, New York, that developed the vaccine for Haemophilus influenza. It became the HIB-titer vaccine, required for all children before they enrolled in elementary school. The vaccine erased the disease and saved the health industry millions of dollars in medical costs.
Praxis then targeted Streptococcus pneumonia, an illness of the young and geriatric populations. Marketed under the name Prevnar, the resulting vaccine became the most efficacious vaccine ever developed. According to the World Health Organization, more than a million children under the age of 5 died from the disease that Prevnar has all but eliminated.
This groundbreaking research by Eby and his colleagues earned them the Heroes of Chemistry award from the American Chemical Society in 2003 and the Discoverers Award from the Pharmaceutical Research and Manufacturers of America in 2005. The ESF Graduate of Distinction — Lifetime Achievement award was bestowed upon him in 2007.
Eby earned his bachelor's degree from ESF in 1969. He earned his master's degree in 1972 and his doctorate in 1974, also from ESF.
Recent ESF News
News Archives
Communications & Marketing
SUNY ESF
122 Bray Hall
1 Forestry Drive
Syracuse, NY 13210
Communications@esf.edu