SHARE:
ESF Announces Commencement Weekend Activities
Numerous events celebrate students' achievements

5/5/2017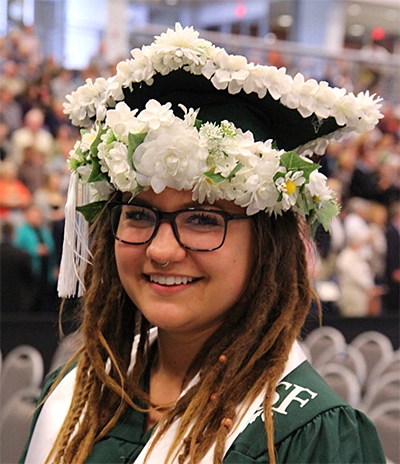 The College of Environmental Science and Forestry (ESF) will confer approximately 400 degrees during Commencement exercises Saturday, May 13, at the SRC Arena and Events Center, Syracuse.
During the ceremony, ESF will confer approximately 325 bachelor's degrees, with about 75 students receiving master's and doctoral degrees.
The college also awards associate in applied science degrees at The Ranger School in Wanakena. Those graduates will include 49 students in the forest technology program, 14 in the environmental and natural resources conservation program, and six in the land surveying technology program. They will receive degrees during a ceremony 11 a.m. May 20 at Clifton-Fine School in Star Lake.
Commencement weekend festivities in Syracuse begin at 9:30 a.m. Saturday, May 13, with the Honors Students' Ceremony in Gateway Center Room A. The Honors Ceremony will be followed by the Environmental and Forest Biology Awards Ceremony at 11 a.m. in 5 Illick Hall. Curriculum-specific receptions for degree candidates, their guests and members of the ESF college community will be held at noon at various campus locations.
The college's Commencement will be at 3 p.m. Saturday, May 13, at the SRC Arena and Events Center, Allyn Hall Gym, at Onondaga Community College. Bachelor's, master's and doctoral degree candidates will be honored.
Preston Bruenn will receive the President's Medal. Bruenn is founder and president of Automated Control Logic in Thornwood, New York. His firm has been making buildings energy efficient and "green" since 1989 - before green was fashionable.
Bruenn graduated cum laude from ESF with a degree in environmental studies in 1986. He has supported conservation efforts from the time he was a Boy Scout through his involvement with Ducks Unlimited and the Camp Fire Club of America.
His accomplishments include securing yearly scholarships for Boy Scouts of America (BSA) Hornaday Conservation Award Silver Medal recipients and helping endow a wildlife professorship at ESF. He serves as an advisory council member of the Roosevelt Wild Life Station at ESF.
A legacy member of the Camp Fire Club of America, past governor, its current conservation committee chair, a life member of the club's Conservation Fund and a past director of same, Bruenn was awarded the club's Presidential Citation in 2005.
He is a member of BSA, serving as an assistant scoutmaster of Troop 1 Mount Kisco. He sits on the Westchester/Putnam BSA Advisory Council and is a member of the BSA National Hornaday Conservation awards selection committee. He was recently was awarded the BSA's Silver Beaver award.
During the ESF ceremony, departmental honors will be bestowed upon the top students in each of the college's discipline areas. Abhinandan Mehra of Gurugram, Haryana, India, will be the student speaker. Heather Carl of Westerlo, New York, will present the class gift.
Joint Commencement exercises with Syracuse University will begin at 9:30 a.m. Sunday, May 14, in the Carrier Dome. Class Marshals leading the ESF degree candidates in the Commencement procession are Taylor A. Brown of East Amherst, New York (environmental resources engineering), and Erika Sykes of Fairport, New York (paper and bioprocess engineering).
ESF departmental scholars are Jacob M. Shave of Amsterdam, New York (chemistry); Brittany A. Washburn of Almond, New York (environmental and forest biology); Jordan M. C'Dealva-Lenik of West Hills, California (environmental science); Collette Charbonneau of Baldwinsville, New York (environmental studies); Kristina Macro of Amherst, New York (environmental resources engineering); Pamella C. Selby of Binghamton, New York (landscape architecture); Sykes (paper and bioprocess engineering); and Carl (forest and natural resources management).
Student Chancellor's Award honorees are Terrance E. Caviness III of Syracuse, New York, (environmental biology) and Sykes.
Recent ESF News
News Archives
Communications & Marketing
SUNY-ESF
122 Bray Hall
1 Forestry Drive
Syracuse, NY 13210
315-470-6644