SHARE:
Chemistry Student Wins Award
Graduating senior Curtis Wilhelmsen recognized by environmental division of the American Chemical Society

5/10/2017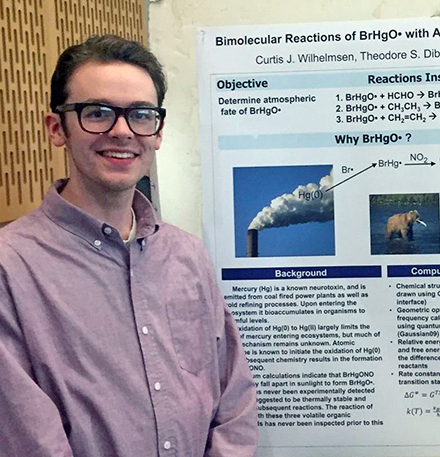 Each year the Environmental Chemistry division of the American Chemical Society recognizes outstanding undergraduate students in fields related to environmental chemistry. Curtis Wilhelmsen was one of the students honored this year.
Wilhelmsen, a student in the ESF Department of Chemistry, graduates this month from ESF. In addition to taking three graduate-level courses in environmental chemistry this past year, he carried out research focused on the atmospheric chemistry of mercury. Mercury is a neurotoxin that bio-accumulates in aquatic ecosystems to levels that are hazardous to wildlife. Fish consumption represents the major route for human exposure to mercury in the United States.
Mercury is emitted to the atmosphere as atoms of mercury but mostly does not enter ecosystems until it reacts with other species to form mercury compounds. Scientists are not sure which reactions transform mercury atoms to mercury compounds. To make matters more difficult, field studies currently provide no information about the identity of these mercury compounds.
Wilhelmsen used computational chemistry to help predict the identity of these compounds. His research suggests the molecule BrHgOH will be one of the most abundant mercury compounds formed. His research will be tested by scientists trying to verify these predictions.
Recent ESF News
News Archives
Communications & Marketing
SUNY-ESF
122 Bray Hall
1 Forestry Drive
Syracuse, NY 13210
315-470-6644