SHARE:
ESF Staff, Faculty Honored by Chancellor
Commitment to students, professionalism recognized

5/22/2017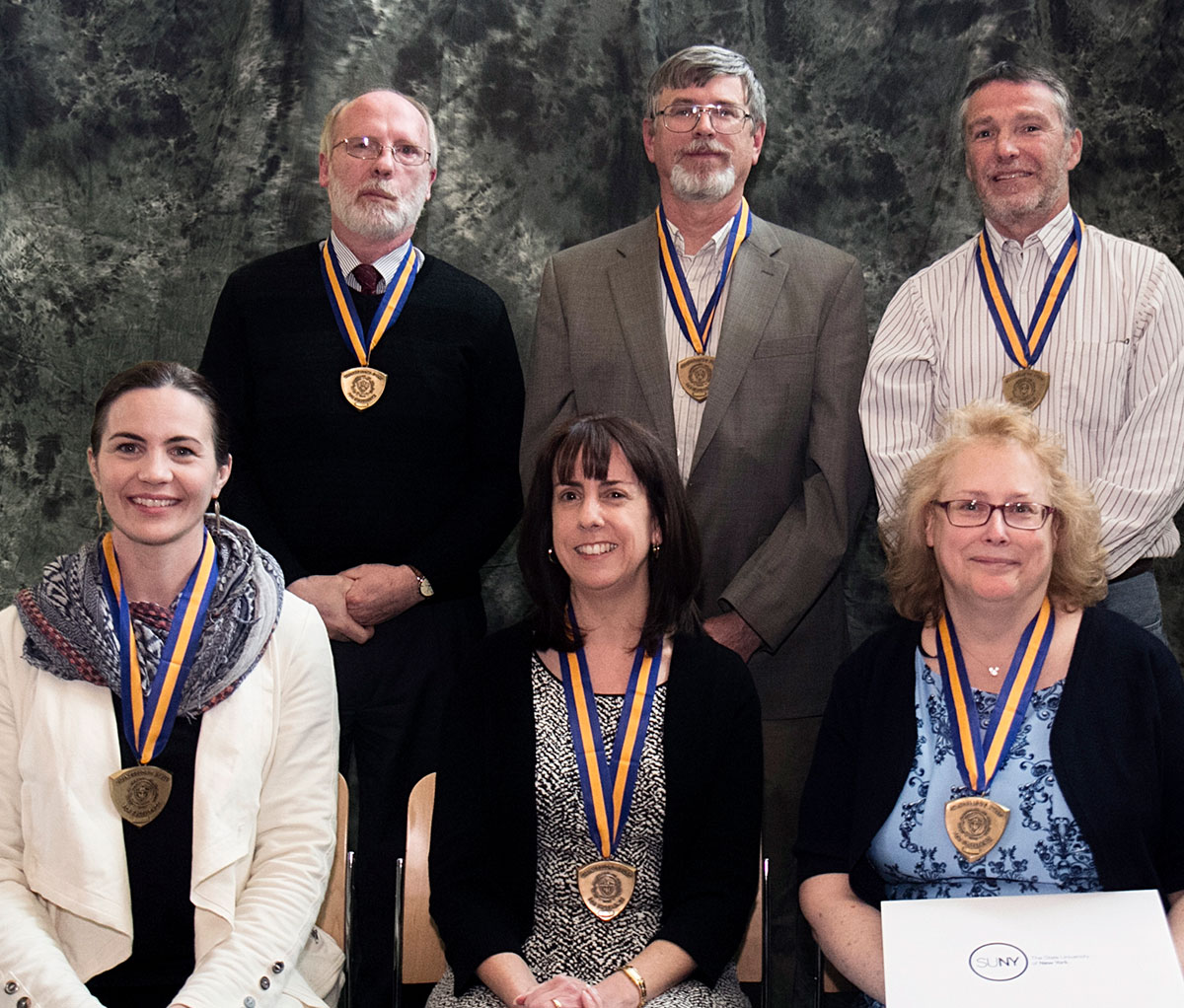 Six employees of the College of Environmental Science and Forestry (ESF) were honored by Chancellor Nancy L. Zimpher for their service to the State University of New York (SUNY).
Terry Webb, secretary in Outreach, received the SUNY Chancellor's Award for Excellence in Classified Service. The award is given to University Classified Service staff who have consistently demonstrated superlative performance within and beyond their position.
Webb, a recent retiree, was responsible for coordinating all administrative tasks for the Outreach office while remaining heavily involved in the hands-on tasks required to provide Outreach programming to thousands of participants each year. She excelled in this role because of her attention to detail, her ability to build relationships and rapport with off-campus partners, sponsors, presenters, vendors and participants who interact with outreach programs.
Brenda Greenfield, assistant vice president for development and executive director of the ESF College Foundation, Inc., received the SUNY Chancellor's Award for Excellence in Professional Service. The award recognizes consistently superior professional achievement within and beyond the position and those who serve as professional role models for a university system in the pursuit of excellence.
Greenfield has been with ESF since 1999. She has led the Office of Development and served the ESF College Foundation, Inc., in exemplary fashion. In 2015-16, the ESF College Foundation provided more than $1.7 million in scholarships to ESF students. The Foundation also provides support for the purchase of new equipment and facility enhancement. During the last 12 years alone, Foundation assets have increased more than tenfold and the Foundation has managed complex projects on ESF's main campus and several of the College's regional campuses.
Her deft handling of the Foundation's resources consistently displays a solid grasp of financial, strategic and fund-raising activities. She balances these responsibilities against the College's priorities and the unpredictability of the state's economic condition.
Elizabeth "Betsy" Hogan, visiting instructor in the Department of Environmental Studies, was honored with the SUNY Chancellor's Award for Excellence in Adjunct Teaching.
Hogan has been affiliated with ESF in various capacities since 2004 as a visiting instructor and as a lecturer teaching in the writing program in environmental studies.
Hogan has an outstanding reputation for teaching ability and compassion for her students. Student testimonials state the positive impact she has both in and outside the classroom. Students frequently used superlatives such as "phenomenal," "enthusiastic," "engaging," "intelligent" and "patient" when describing her teaching effectiveness.
Hogan has also been involved in a learning community initiative and worked with teachers in the ESF in the High School Program.
Dr. Rene Germain of the Department of Forest and Natural Resources Management (FNRM) received the SUNY Chancellor's Award for Excellence in Teaching. The award recognizes consistently superior teaching at the graduate, undergraduate or professional level in keeping with the State University's commitment to providing its students with instruction of the highest quality.
Germain joined the ESF faculty as an assistant professor in 1998. In 2010, he was promoted to professor. He brings to the classroom years of industry experience. In addition, he incorporates his research into his teaching. Germain has a deep concern for advancing forestry education. He uses his research monies to fund graduate students and research projects to mentor graduate students to graduation and publication of their theses/dissertations.
FNRM's Dr. Christopher A. Nowak was awarded the Chancellor's Award for Excellence in Faculty Service, which recognizes the consistently superior service contributions of teaching faculty. This service must be sustained over multiple years and may occur in a variety of venues.
Nowak was initially appointed by ESF as associate professor in 1998 and was promoted to professor in 2007. The most notable service activity that illustrates the generous giving of his time, expertise, and leadership skills was being appointed chair of a College-Wide Strategic Planning Steering Committee in 2015. He led an 18-person College committee to produce a 40-page strategic plan, the Vision 2020 Update. During this period, Nowak spent more than 50 percent of his time on this effort without sacrificing the quality of his teaching or reducing his teaching load and his research commitments to graduate students and others.
He also led his department through a major revision of its promotion-and-tenure guidelines; developed the department's first comprehensive student handbook and communications guidelines; and administered the first comprehensive review of the natural resources management and forest resources management undergraduate degree programs.
Dr. Ivan Gitsov of the Department of Chemistry was awarded the Chancellor's Award for Excellence in Scholarship and Creative Activities. This award supports the pursuits foundational to sustaining the intellectual growth of SUNY institutions by recognizing consistently outstanding scholarly and creative productivity, conducted in addition to teaching, by SUNY's instructional faculty.
Gitsov joined ESF faculty in 1996, and in 2015 was named chair of the chemistry department and director of The Michael M. Szwarc Polymer Research Institute.
Gitsov has sustained an exceptionally high level of research activities through his publications, presentations and professional service primarily in the area of polymer science. He is the sole author or co-author of 61 published articles in peer-reviewed journals, 10 chapters in peer-reviewed monographs, textbooks and encyclopedias, and 18 publications on symposium proceedings. He is also the co-holder of 13 Bulgarian patents and one U.S. patent. Gitsov has garnered significant external support for his research activities from public and private funding institutions, as well as from companies totaling over $2 million.
Gitsov has made several significant contributions to the field of polymer chemistry, for which he has earned international recognition. Perhaps his most important scientific achievement was the design and characterization of linear dendritic polymers.
Gitsov was elected as the 1990 Greve Fellow in Polymer Science and Technology by The William and Mary Greve Foundation Inc., USA. In 1999, he was named a Cotrell Scholar by the U.S. Research Corporation for Science Advancement. In 2011, he was selected as an external honorary member of the ETH Polymer Chemistry Group, Swiss Federal Institute of Technology, Switzerland, in recognition of his services to the Department of Materials Science at ETH-Zürich.
Recent ESF News
News Archives
Communications & Marketing
SUNY-ESF
122 Bray Hall
1 Forestry Drive
Syracuse, NY 13210
315-470-6644