SHARE:
SUNY Ranks among Top 100 Worldwide for Patents Granted in 2016
ESF research earns patent for cancer drug-delivery innovation

6/6/2017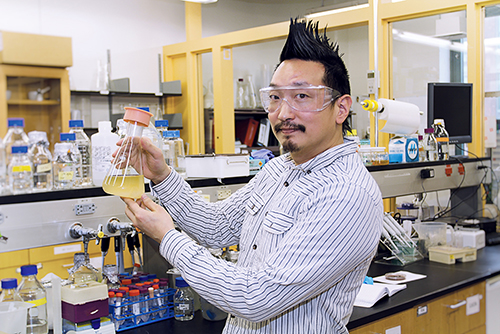 The State University of New York ranked 38th in the "Top 100 Worldwide Universities Granted U.S. Utility Patents for 2016," according to the National Academy of Inventors (NAI) and Intellectual Property Owners Association (IPO), which publishes the ranking annually based on U.S. Patent and Trademark Office data.
SUNY campuses were awarded 57 U.S. utility patents for advances in biotechnology, cancer research, manufacturing, renewable energy, and much more.
ESF is among that group, with a patent related to research led by Dr. Christopher Nomura, a chemist who is ESF's vice president for research. His team developed a "Trojan Horse" to attack cancer cells using special polymers that trick cancer cells into directly ingesting chemotherapeutic drugs so they are destroyed from the inside out, thus reducing damage to normal cells.

"Across SUNY, our faculty and students partner to make groundbreaking discoveries in a broad spectrum of areas," said SUNY Chancellor Nancy L. Zimpher. "Through more than 1,300 U.S. patents earned to date, SUNY research has led to hundreds of new technologies and advances that address society's greatest challenges and have a positive impact on quality of life in New York and beyond. Congratulations to all those at SUNY whose important work has elevated us to this prominent world ranking."
"This recognition marks a terrific accomplishment for our growing number of SUNY research faculty, who work tirelessly to mentor students while engaging them in research opportunities that advance the frontiers of knowledge and address state and global challenges," said SUNY Provost and Executive Vice Chancellor, and NAI Fellow, Alexander N. Cartwright. "Our faculty, a number of whom are NAI members, are a tremendous source of pride for SUNY."
"From energy, to medicine, to consumer technologies and more, innovation is at an all-time high throughout New York State, and SUNY is at the center of it," said SUNY Vice Chancellor for Research and Economic Development Grace Wang. "With a multitude of influential research institutions, supported by the largest, most comprehensive university-connected research foundation in the country, SUNY is driving positive change across the globe."
Research at SUNY produces more than 100 new technologies every year. SUNY inventors have contributed to some of the most transformative technologies in history, including the heart-lung machine, bar code scanner, MRI, and several FDA-approved therapeutics.
Recent ESF News
News Archives
Communications & Marketing
SUNY-ESF
122 Bray Hall
1 Forestry Drive
Syracuse, NY 13210
315-470-6644