SHARE:
Philosopher's Camp Returns to Newcomb Campus
Beowulf, Grendel and the Book of Ruth to be explored

6/29/2017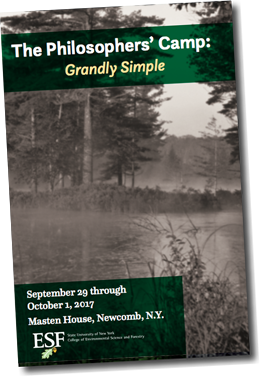 The Philosophers' Camp, an annual collaboration between the College of Environmental Science and Forestry's (ESF) Northern Forest Institute and St. John's College of Santa Fe, New Mexico, reimagines the original Adirondack excursion as a weekend retreat in elegant Great Camp style at the historic Masten House. It will be held Sept. 29 to Oct. 1.
An 1858 Adirondack expedition of the day's leading intellectuals was immortalized in a painting by William James Stillman's and provides historical grounding for this contemporary revision and an opportunity for conversations related to the Anglo-Saxon poem "Beowulf," John Gardner's 1971 novel "Grendel" and The Old Testament Book of Ruth.
This program pairs lively conversation inspired by poetic and literary classics with all-level excursions including hiking and a guided canoe trip on Henderson Lake.
The seminar opens with discussion of "Beowulf," the story of one of Western Literature's epic heroes, and his struggle with a cast of monsters, and the challenges of human culture and society, as well as with his own mortality, and questions related to duty, responsibility, loyalty and fame.
Discussions on "Beowulf" continue Saturday morning followed by an afternoon session on "Grendel," which flips the Beowulf story and is told from the monster's point of view. The discussion on Sunday focuses on the book of Ruth and will introduce the heroic feminine and provide a counterpoint to Beowulf and Grendel.
Seminar discussions will be led by environmental philosopher Marianne Patinelli-Dubay of ESF's Northern Forest Institute, and David Carl, a faculty member at St. John's College.
For additional information and registration visit http://www.esf.edu/nfi/philosophy.htm
Recent ESF News
News Archives
Communications & Marketing
SUNY-ESF
122 Bray Hall
1 Forestry Drive
Syracuse, NY 13210
315-470-6644