SHARE:
ESF Listed among Princeton Review's Best 382 Colleges for 2018
For second year in a row, College earns spot on 'Green College Honor Roll'

8/1/2017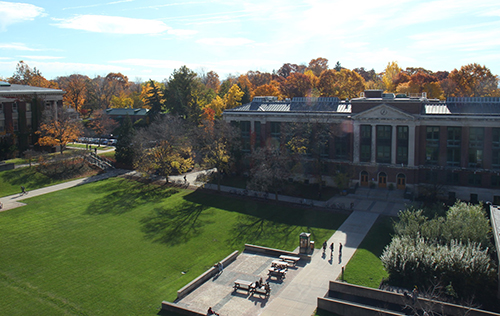 ESF is one of the nation's best institutions for undergraduate education, according to The Princeton Review. The education services company features the college in the new 2018 edition of its college guide, "The Best 382 Colleges."
ESF once again made the Princeton Review's "Green College Honor Roll" by receiving a score of 99, the highest possible score, in the Green Rating tallies this year. Only 24 colleges and universities achieved that distinction. ESF is the only SUNY school, and one of only two colleges in New York state, to make the Honor Roll this year. In addition to being included on the 2016 honor roll, ESF last October was listed by the Princeton Review as No. 2 among the nation's "Green Colleges."
The Princeton Review praised ESF as "an excellent value even for students hailing from outside the Empire State." The publication points out that ESF offers many specialized bachelor of science degrees, along with a host of pre-professional programs.
The college earned particular honors for its residence hall, Centennial Hall, which is No. 13 on the Best College Dorms list. The building has LEED Gold certification and is outfitted with Stickley furnishings.
The Princeton Review quotes extensively from ESF students who were surveyed for the book. Among their comments:
"The student body and faculty care about each other and help everyone get the most out of the experience."
"ESF will cater to your specific needs" because of its small size.
"The name alone will likely set you ahead in your career."
ESF "truly does provide you with the necessary experience for your field with challenging courses and endless volunteer, research, and internship opportunities throughout your time at ESF."
The college was also praised for its active student body and rich array of student activities, which include opportunities for ESF students to participate in clubs and events at neighboring Syracuse University. The college was described as "fostering a community that uses the knowledge it gains through schooling to make real changes to our world" and for being a place where students feel "an almost instantaneous camaraderie." Despite the range of academic interests, one student said, "everyone enjoys being outdoors" and students are "often caught discussing class or lab topics in their free time."
"We chose ESF for this book because it offers outstanding academics," said Robert Franek, Princeton Review's editor-in-chief and author of "The Best 382 Colleges." "Our selections are primarily based on our surveys of administrators at several hundred four-year colleges. We also visit dozens of colleges each year and give considerable weight to opinions of our staff and our 24-member National College Counselor Advisory Board. Most importantly, we look at valuable feedback we get from each school's customers - our surveys of students attending them. We also keep a wide representation of colleges in the book by region, size, selectivity and character."
Only about 15 percent of America's 2,500 four-year colleges and two colleges outside the U.S. are profiled in the book, which is one of The Princeton Review's most popular guides.
The Princeton Review is an education services company known for its tutoring, test-prep courses, books, and other student resources. It is headquartered in New York City and not affiliated with Princeton University.
Recent ESF News
News Archives
Communications & Marketing
SUNY ESF
122 Bray Hall
1 Forestry Drive
Syracuse, NY 13210
Communications@esf.edu