SHARE:
NSF Grant Funds ESF Ecologist's Gypsy Moth Research
Dr. Dylan Parry investigates spread of invasive species

8/10/2017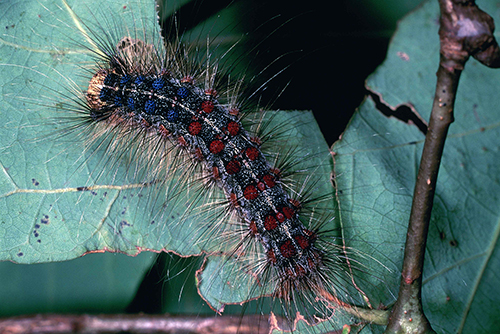 A scientist from the College of Environmental Science and Forestry (ESF) is among the researchers whose work is supported by $12.1 million in funding announced today (Aug. 10, 2017) by the National Science Foundation.
Dr. Dylan Parry, an ecologist who is an associate professor in the ESF Department of Environmental and Forest Biology, will work with research partners from two universities in Virginia to learn more about how the troublesome gypsy moth - an invasive species that causes widespread damage to trees by defoliating them - has been able to spread through a range of habitats that have wide-ranging climate differences.
"The gypsy moth is arguably the most well-documented invasive species on Earth," Parry said. "Since its initial introduction in Massachusetts nearly 150 years ago, the gypsy moth has expanded its range to encompass an area from northern Minnesota to North Carolina."
Parry said the $300,000 project will investigate how critical tolerances to warm and cold temperatures have allowed the species to successfully colonize such a climatically diverse range of habitats.
"Importantly, we will investigate the climatic and physiological constraints that will govern the future spread of this important invader," he said.
The project is a collaboration among Parry; Kristine Grayson of the University of Richmond, who is a physiological ecologist; and Salvatore Agosta of Virginia Commonwealth University, who is an insect physiologist.
Parry's role is to collect gypsy moth populations from select climatic regions across the 1,800-km "invasion front" and rear the insects under homogeneous conditions to assess how ecologically important life history traits are geographically structured. These studies will be coupled with sensitive laboratory physiological measurements across biologically relevant temperatures, to be conducted by Agosta, and controlled experiments using simulated climatic conditions programmed into environmental chambers, which will be done by Grayson.
The title of the project is "Linking thermal tolerance to invasion dynamics: Climate and physiological capacity as regulators of geographical spread." The funding is part of the NSF's Early Career Track awards program, which supports research faculty in the early years of their professional life.
The funding to Parry and his colleagues is one of 10 such awards announced. The funding came through NSF's MacroSystems Biology and Early NEON (National Ecological Observatory Network) Science program. The awards will support research to help better detect, understand and predict the effects of phenology, climate and land-use changes on living systems, and the feedbacks to the environment that cross local and continental scales.
"The scientific community has seen a recent boon of new tools, from remote ecological sensor networks to citizen scientist-generated data, that allows us to study biology at scales that were never possible before," said James Olds, head of the NSF Biological Sciences Directorate, which oversees the MacroSystems Biology and Early NEON Science program. "These projects take advantage of those new tools, asking questions about how measurements made at one scale can be applied to others. Macrosystems science studies every dimension of biology, from genes to the globe."
Living organisms interact with their local environment in many ways, changing it and being changed by it. Over larger areas, millions or even billions of organisms interacting with their individual environments have effects on a much larger scale that are not predictable by knowing what happens locally. The field of macrosystems biology emerged in recent years to study how widespread local interactions cause changes to organisms and to their environments at regional to continental scales and how changes that occur over very large areas influence the local interactions.
One significant kind of change involves the shifting of seasons across the planet. Locally, flowers are blooming sooner, leaves are changing colors later, migrating birds are showing up sooner and staying longer and new insects are appearing. Across the continent, new patterns alter local and regional weather, confuse the relationships between pollinators and plants, affect important populations of native and invasive insects and alter forest productivity.