SHARE:
U.S. News Ranks ESF among the Best
College rises on list of Best National Universities

9/13/2017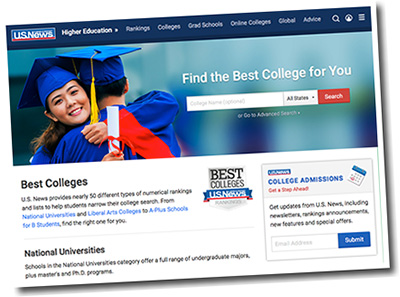 ESF continues to rank among the top universities in America, according to U.S. News & World Report.
ESF is ranked number 97 on the Best National Universities list in U.S. News' 2018 edition of Best Colleges. Last year the College was ranked 99th.
ESF is one of four SUNY schools listed in the top 100 on the Best National Universities list. The others are Binghamton University, Stony Brook and University of Buffalo. The later two tied ESF at 97.
"We're pleased to see ESF recognized on the national level for its outstanding programs," said college President Quentin Wheeler. "These rankings are an affirmation of the dedication of faculty, staff and students to the academic excellence and developing the environmental leaders of tomorrow."
"Each of SUNY's 64 colleges and universities help our students find their purpose and their passion. Whether it's in research, education, outreach, or engagement, our colleges and universities strive to achieve excellence in everything they do," said SUNY Chancellor Kristina M. Johnson.
"We are thrilled that so many of our SUNY campuses have again received favorable rankings by U.S. News & World Report," said Johnson. "While we appreciate that rankings are one indication of quality, it does help demonstrate that SUNY is one of the best national education systems. Congratulations to each of the SUNY campuses recognized by the 2018 U.S. News and World Report rankings."
The magazine says the National Universities category comprises 311 institutions (190 public, 114 private and seven for-profit) that offer a wide range of undergraduate majors as well as master's and doctoral degrees. Many of the nation's most prestigious research universities are ranked in this group.
According to U.S News & World Report, data on up to 15 indicators of academic quality are gathered from each institution and tabulated. Schools are ranked by total weighted score.
Recent ESF News
News Archives
Communications & Marketing
SUNY-ESF
122 Bray Hall
1 Forestry Drive
Syracuse, NY 13210
315-470-6644