SHARE:
Soccer Teams Win Big on Senior Day
Mighty Oaks triumph over Albany Pharmacy

9/18/2017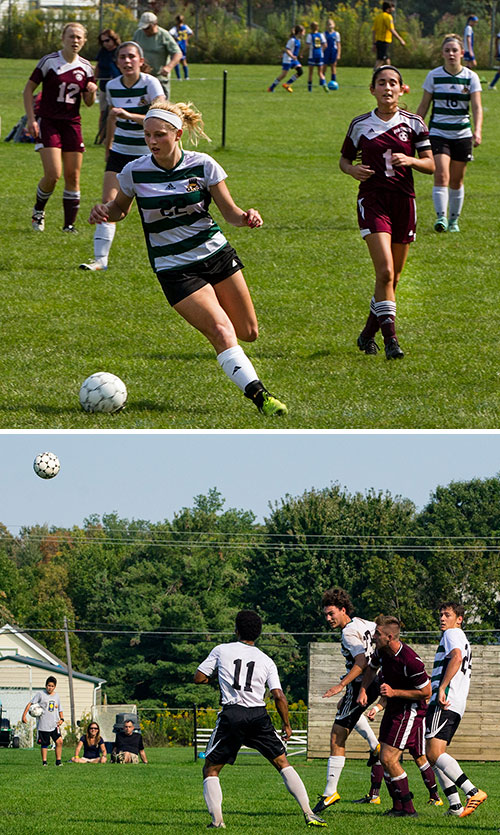 The ESF soccer teams hosted conference rivals Albany College of Pharmacy and Health Sciences Saturday, Sept. 16, and came away with wins. This game was also Senior Day with both programs recognzing a group of tremendous student athletes.
Senior women honored were Lauren Archer, Anna Bishop, Kiki Hilmer, Megan Herbst, Shannon Gordinier, Victoria Field, Maggie Tryon, Giselle Schrieber, Jessie Smith and Natalee Wrege. This senior group won the first Hudson Valley Intercollegiate Athletic Conference Championship and made three national championship tournament appearances. Men honored were Jake Adamczak, Jeremy Langdon, Chris Lawrence, Matt Murray, Geoff Golick, Jake Gaworecki and JC Barrientos. This class also holds the honor of winning the college's first conference championship on the men's side.
The women's team started the day strong with impressive possession and dominating play. They outshot Albany 23 to 5 and netted three goals in the second half.
The goals were scored by freshman Maddie Eggenberger, and seniors Archer and Gordinier. Creating assists were Archer with two and Bishop with one. It was a big win as Albany is a top-ranked USCAA contender.
The men followed with tremendous intensity, outshooting Albany 20 to 10. The game was spirited with much up and down play, with the Oaks getting win, 5-2. The goal scorers were Tyler Felice Jennings, Luke Day and Joe Kulikowski, with two for JC Barrientos. Joe Kulikowski, Matt Murray and Barrientos had assists; Chris Lawrence had two. The win puts the Mighty Oaks on top of the conference standings.
The men followed Saturday's game with a Sunday match vs. the Culinary Institute of America. The ESF team continued great dominant play, outshooting an organized CIA team 29 to 6. The strong CIA defense held the Mighty Oaks to only two first-half goals. The goals came from Andrew Noble and Luke Day, assisted by Barrientos and George Beinetti.
The weekend also featured the annual alumni soccer game, which drew more than 26 alumni from as far away as Colorado and Florida.
"Both teams really stepped up the intensity and quality of play for the seniors and for the alumni with three excellent wins for the seniors and the alumni," said Golick, men's senior captain.
Recent ESF News
News Archives
Communications & Marketing
SUNY-ESF
122 Bray Hall
1 Forestry Drive
Syracuse, NY 13210
315-470-6644