SHARE:
SUNY, W.K. Kellogg Foundation Announce Grant for Sustainable Village and Learning Community in Haiti
ESF landscape architecture students, faculty to develop master plan for site

9/25/2017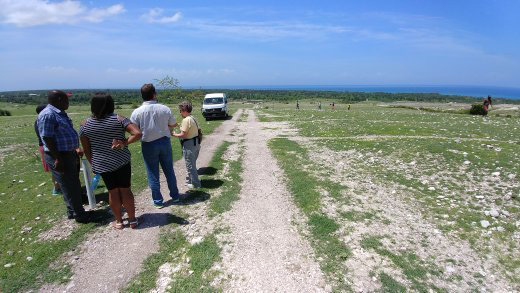 ESF is part of a statewide collaboration on a sustainable village and learning community in Haiti that will provide resources and services for the town of Arcahaie.
The W.K. Kellogg Foundation awarded SUNY a nearly $800,000 grant to develop educational, economic and social programs, resources and services through a multi-organizational process. Students, faculty and staff from ESF and nine other SUNY campuses and five not-for-profit organizations are working on the project, each providing different specialties. In addition to ESF, which will provide leadership in landscape architecture, urban planning, and sustainable design, the participants are University at Albany (international development for management), Binghamton University (public administration), University at Buffalo (social work), Buffalo State College (performing arts), SUNY Cobleskill (agriculture and fisheries), Nassau Community College (nursing), SUNY New Paltz (disaster mental health), Stony Brook University (health sciences), and Upstate Medical University (public health).
The collaboration was announced today (Sept. 25) by SUNY and the W.K. Kellogg Foundation.
"Chairman McCall, Kellogg Foundation President Montgomery Tabron, and I recently had an opportunity to travel to Haiti to survey the land where the SUNY village will be developed and, more importantly, to hear first-hand from the people of Arcahaie about how our colleges and organizations can support the health, wellbeing, and successful development of their community," said SUNY Chancellor Kristina M. Johnson. "SUNY's capacity to serve communities throughout New York state and around the globe knows no bounds. This project will provide immeasurable opportunity for those in Haiti as well as the students, faculty, staff participating from across SUNY."
At ESF, third-year LA graduate students in a design studio will develop a master plan for the 40-acre site. The studio is co-taught by associate professors Maren King, and Emanuel J. Carter Jr.
"ESF was invited specifically to participate because they foresaw a need for significant input on the sustainability side," said Scott Shannon, associate provost and dean of the ESF graduate school. "I think they were looking at primarily environmental sustainability at the time and it's grown in scope to look at other aspects of sustainability." Shannon, who is also a faculty member in the ESF Department of Landscape Architecture, will assist with the studio.
"It's a more expansive definition of sustainability and sustainable communities," said King.
The project began with a donation of 40 acres of land in Arcahaie from Nassau Community College Professor Emeritus Carmelle Bellefleur. The SUNY group will collaborate with the people of Haiti to establish a sustainable learning community to farm the land and provide food, build a medical center to increase health and wellness, and deliver much-needed services and economic development across many sectors, according to H. Carl McCall, SUNY board chairman.
"The approach is essentially working to foster local entrepreneurship, community development through education, service learning and any number of other initiatives that bring SUNY educational expertise to local communities in developing countries," said Shannon.
Arcahaie is approximately 50 kilometers northwest of Port Au Prince, the capital of Haiti. "The project we're working on - contrary to a lot of work that's been done in Haiti the last 10 years - has very little if anything to do with the (2010) earthquake or disaster relief," said Shannon. "This is really looking at the fundamentals of poverty and the environmental and social problems that are associated with that and underlying that in some degree."
The intent of the collaboration is to develop a program for what facilities need to be incorporated into the design of this model of a community on 40 acres and beyond, said Shannon.
King and Shannon have visited the site in Haiti three times. "We've been developing good mapping and background information on the site and the facilities we need to incorporate," said Shannon.
The design studio will look at the physical design of the site and is the first of many opportunities tied to the sustainable village and learning community, according to King. "It is obviously a long-term project," she said.
The planning phase is slated for February 2018 completion. "The master plan will be in advance of that so that's why the timing of the fall studio is in many ways perfect," said King. "It pushes the team to develop the program."
King said they will explore what is expected to happen on the site over time. "This also starts everyone thinking about what else can happen as part of this eight- to 10-year process because a 40-acre site is really more about education and modeling practices," said King. "What is it that can be brought further into the countryside into other issues that they're dealing with in terms of deforestation, flooding, soil erosion, waste management."
"Much like we try to do on our own campus here by incorporating sustainable features in the site design and the building design," said Shannon, "that's what we'd like to do to the greatest degree possible (in Haiti)."
"We can dare to embed not just a sense of sustainability in the selection of the materials or manufacturing of individual design components, but instead consider entire systems, such as being able to track how water arrives in precipitation, is captured & stored, and see how it can be reused two to three times before it leaves the site. "
Representatives from the project's steering committee visited ESF in March 2017, met with ESF faculty members from multiple departments and toured the campus. "They were impressed with the idea that yes you can demonstrate a fair number of sustainable practices within a small area," said King. "I think it helped open their eyes to the possibilities. ESF does have a treasure trove of research and applied research and learning that occurs here and then shared into communities. "
The not-for-profit organizations involved in the project are African Methodist Episcopal Church Service and Development Agency (AME-SADA), Effort Commun Pour Le Developpement de L'Arcahaie (ECODA), Haiti Development Institute, Hope on a String, and YouthBuild International.
Recent ESF News
News Archives
Communications & Marketing
SUNY-ESF
122 Bray Hall
1 Forestry Drive
Syracuse, NY 13210
315-470-6644