SHARE:
ESF Helps City's Biz-Launching Profile
Syracuse among magazine's "top 100 places to live and launch"

3/31/2008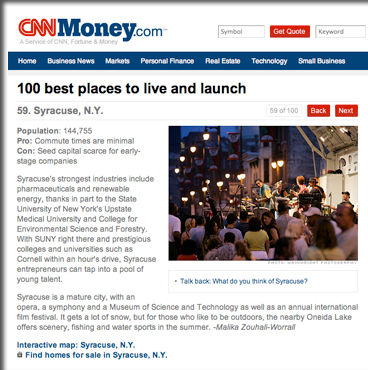 Fortune Small Business magazine ranks the city of Syracuse No. 59 among the "100 best places to live and launch" a business, giving SUNY-ESF credit for some of the city's appeal.
ESF shares the praise with its sister institution, SUNY Upstate Medical University.
"Syracuse's strongest industries include pharmaceuticals and renewable energy, thanks in part to the State University of New York's Upstate Medical University and College for Environmental Science and Forestry," the web site states.
The write-up highlights the fact that the city's two SUNY institutions provide a pool of young talent for entrepreneurs to draw from when launching a business. Syracuse was the highest rated city in New York selected for this year's list.
Recent ESF News
News Archives
Communications & Marketing
SUNY ESF
122 Bray Hall
1 Forestry Drive
Syracuse, NY 13210
Communications@esf.edu