SHARE:
Centennial Hall Construction Update
Final modular unit set in place

12/8/2010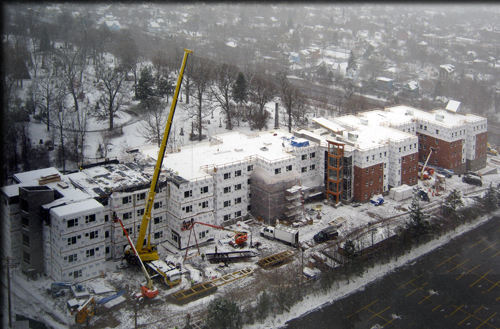 The last of the 184 modular units that are being used to construct ESF's first residence hall has been put in place, completing a major phase of the construction project.
Modular construction was used for the residence hall, called Centennial Hall in honor of the upcoming 100th anniversary of ESF's founding in 1911, in part because it allows for less construction waste and fewer delays caused by weather. The goal was for the modular units to be assembled before harsh weather set in so work on the interior of the residence hall could be done through the winter. As it happens, the last unit was set in place on the east end of the building just days before the first major snowfall of the season began to drop some two feet of snow on the Syracuse area. It is believed to be the largest modular construction project that has occurred in Central New York.
Landscaping and final exterior work are planned for the spring and summer of 2011, allowing ESF students to move into the building for the start of the fall semester.
Construction of Centennial Hall, overseen by national student housing developer Allen & O'Hara and local contractor Hueber Breuer, began in May along Oakland Street, just west of the main ESF campus. The $31.4 million building is being constructed by the ESF College Foundation, Inc., which supports the college's educational mission. The foundation will operate the facility. The work is funded by financing provided through the Onondaga Civic Development Corp. and TD Bank.
The 452-bed facility designed by WTW Architects of Pittsburgh and HKK Architects of Syracuse will house 280 freshmen and 172 upperclassmen.
Recent ESF News
News Archives
Communications & Marketing
SUNY-ESF
122 Bray Hall
1 Forestry Drive
Syracuse, NY 13210
315-470-6644