SHARE:
1911: ESF Gets Its Start
Moving into Bray Hall was collegewide effort

1/4/2011
The New York State College of Forestry was founded in 1911 in partnership with Syracuse University. The first classes were held in the basement of SU's Lyman Hall. In 1913, the state purchased 12 acres of land adjacent to SU from the university. Four years later, Bray Hall was completed and the College had a permanent home.

Moving, however, presented a challenge. A book published in commemoration of the College's 50th anniversary, "Forestry College: Essays on the Growth and Development of New York State's College of Forestry," edited by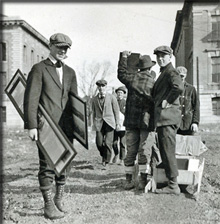 George R. Armstrong, describes how the problem was solved: "But there were no state funds available to hire vehicles and workers to move the books, furniture, desks, surveying and laboratory equipment and other college possessions from temporary quarters at Syracuse University to the new building. Faculty members and approximately 200 students volunteered their services and completed the move in just two days."
Bray Hall remained the only building on the ESF campus until Marshall Hall's completion in 1933.
Recent ESF News
News Archives
Communications & Marketing
SUNY ESF
122 Bray Hall
1 Forestry Drive
Syracuse, NY 13210
Communications@esf.edu