SHARE:
ESF Earns 'Engagement' Rank
College selected for Community Engagement Classification

1/5/2011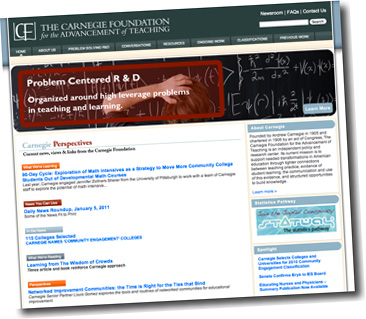 The SUNY College of Environmental Science and Forestry (ESF) has been selected for the 2010 Community Engagement Classification by the Carnegie Foundation for the Advancement of Teaching.
According to the Carnegie Foundation, ESF documented strong connections among the college's mission, culture, leadership, resources, and the practices that support noteworthy community engagement.
The college is one of 115 institutions that will be added to the Community Engagement Classification, bringing the total to 311.
"Through a classification that acknowledges significant commitment to and demonstration of community engagement, the Foundation encourages colleges and universities to become more deeply engaged, to improve teaching and learning and to generate socially responsive knowledge to benefit communities," said Carnegie President Anthony Bryk. "We are very pleased with the movement we are seeing in this direction."
ESF students, faculty and staff performed a combined total of more than 71,000 hours of community service and service learning during the 2009-10 fiscal year. The college has 190 partner organizations and agencies throughout the community. Those partners include an array of environmental groups, service organizations, schools, neighborhood groups, business organizations, churches, towns, museums and charities.
"The Carnegie Elective Classification for Community Engagement is an achievement for all of SUNY-ESF," said Elizabeth Mix, ESF's community service and service learning coordinator. "The classification doesn't come from the work of one office, department or person; it comes from the entire institution."
Mix said the classification process investigated ESF's community engagement practices at all levels, from the college'smission, vision, and goals to the contributions of students, faculty and staff throughout the community.
"SUNY-ESF has a strong culture of service, and I am eager to see the college expand and improve upon itsengagement within the local and global communities for many years to come," Mix said.
"Clearly there is a great deal of interest among colleges and universities in being recognized for their community engagement commitments," noted John Saltmarsh, the Director of the New England Resource Center for Higher Education (NERCHE), the Carnegie Foundation's Administrative Partner for the classification.
"We noted strong institutional alignment across leadership, infrastructure, strategic planning, budgeting, faculty teaching and scholarship, and community partnerships," explained Amy Driscoll, a consulting scholar with the Carnegie Foundation and NERCHE. "There is increased student engagement tied to the curriculum as well as increased use of institutional measures such as the NSSE for understanding student engagement in learning through community engagement."
Recent ESF News
News Archives
Communications & Marketing
SUNY-ESF
122 Bray Hall
1 Forestry Drive
Syracuse, NY 13210
315-470-6644