SHARE:
ESF Student Part of First-Place Team in Hult Prize Competition
Sayje Lasenberry is member of Farm to Flame Energy team

12/15/2017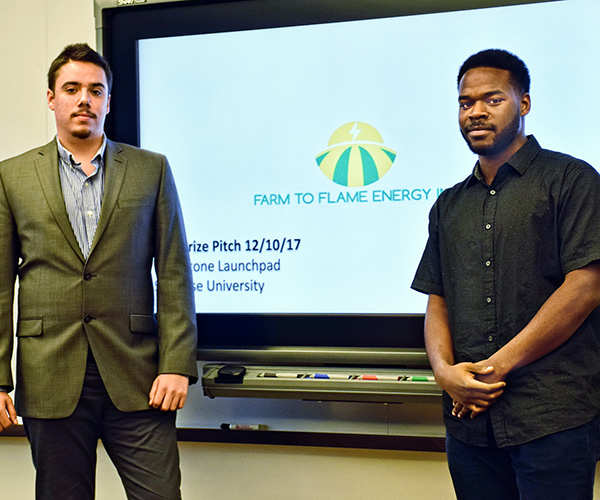 ESF student Sayje Lasenberry is a member of Farm to Flame Energy, the team that recently took first-place honors in the Syracuse campus qualifier for the Hult Prize.
The Hult Prize, known as "The Nobel Prize for student startups," seeks out game-changing student social enterprises that compete to solve the world's toughest challenges. This year's theme, "Harnessing the Power of Energy," challenged teams to conceive a scalable solution to transform the lives of 10 million people by 2025.
Farm to Flame Energy proposed an idea that combined energy, agriculture, education, conservation and sustainable enterprise.
Farm to Flame Energy's patented, smokeless, odorless, efficient biomass combustion system can be used for micro-grids, and integrated with a cloud-based sensor system and data analysis for real-time monitoring. The team proposed a franchise model to achieve scalability, empowering community entrepreneurs and farmers in developing countries to become business partners. The model includes a strong agricultural education component, teaching local farmers how to plant high-yield energy crops that are best suited for their climate and soils, and that can be used as local biomass sources.
The model created by Farm to Flame Energy has the power to address Hult's goal of impacting 10 million people by the year 2025, since it is estimated that 960 million people live in energy poverty in rural areas around the globe.
Farm to Flame Energy now advances to one of 15 regional finals in March 2018. A winning team from each of the 15 regional finals will be selected to participate in an eight-week summer residency at the Hult Castle accelerator in the United Kingdom, and a chance to pitch at the United Nations in September 2018, with the winning team receiving the $1 million grand prize.
Along with Lasenberry, a sophomore sustainable energy management major, Farm to Flame Energy comprises SU students William Lee Mendes McKnight and Kwaku Jyamfi.
Swedish billionaire, entrepreneur and philanthropist Bertil Hult established the competition in 2009, and each year the Hult family donates $1 million in seed capital to the winning social enterprise.
Recent ESF News
News Archives
Communications & Marketing
SUNY-ESF
122 Bray Hall
1 Forestry Drive
Syracuse, NY 13210
315-470-6644