SHARE:
Class Gifts a Longstanding Tradition at the College
Class of 1924 presents college with a drinking fountain

1/26/2011
The class gift is a long-standing tradition at the New York State College of Forestry. The note that accompanied this photo in the ESF Archives states:
"The class of '24 at the New York State College of Forestry was a thirsty bunch. So they gave the College a memorial drinking fountain to remember them by. Here, admiring it, are four of that class' 69 members. Left to right, they are John I. Kolb, now superintendent of Parvin State Park, Elmer, N.J.; Reginald T. Titus — he got his degree a year later,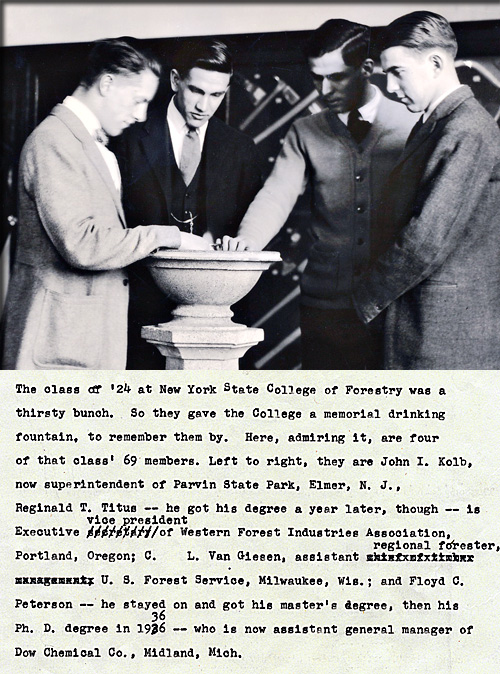 though — is executive vice president of Western Forest Industries Association, Portland, Oregon; C.L. Van Giesen, assistant regional forester, U.S. Forest Service, Milwaukee, Wis.; and Floyd C. Peterson — he stayed on and got his master's degree, then his Ph.D. in 1936 — who is now assistant general manager of Dow Chemical Co., Midland, Mich."
Recent ESF News
News Archives
Communications & Marketing
SUNY ESF
122 Bray Hall
1 Forestry Drive
Syracuse, NY 13210
Communications@esf.edu