SHARE:
ESF, SU Celebrate Darwin's Birthday with 'Collecting Evolution'
Feb. 12 at Moon Library: Matthew James to discuss expedition that validated Darwin's ideas

2/6/2018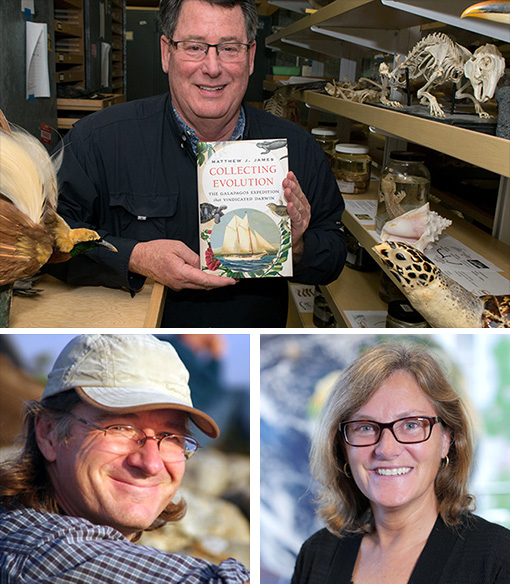 ESF and Syracuse University will celebrate Charles Darwin's birthday by cohosting a conversation by Matthew James, a Fellow of the California Academy of Sciences and professor of geology at Sonoma State University.
James will lead a discussion titled, "Collecting Evolution: The Galapagos, Biodiversity and Importance of Collections," at 4:30 p.m. Monday, Feb. 12, in 110 Moon Library on the ESF campus.
Joining him will be ESF Distinguished Professor James Gibbs, director of the ESF Roosevelt Wildlife Station who has done extensive research in the Galapagos; and Linda Ivany, professor of earth sciences at Syracuse University, whose research focuses on paleoecology and paleoclimatology.
The event is sponsored by the Syracuse-ESF Collaborations Initiative.
James will discuss the story of a 1905 collecting expedition to the Galapagos by eight sailor‐scientists from the California Academy of Sciences. They set out on an 89‐foot schooner from San Francisco. By the time they finished in late 1906, they had completed one of the most important expeditions in the history of both evolutionary and conservation science. They brought back more than 78,000 specimens but caused no species to become extinct.
These museum specimens helped validate the ideas of Charles Darwin and laid the groundwork for foundational evolution texts, such as David Lack's landmark 1947 book Darwin's Finches.
Despite the significance of this expedition, almost nothing was written on this voyage, lost among broader discussions of Darwin's trip on HMS Beagle. In "Collecting Evolution," James finally tells the story of the 1905‐06 Galapagos expedition and its implications. James follows these eight young men aboard the schooner Academy to the Galapagos and back, and reveals the stories that occurred before, during and after their groundbreaking success.
James has a Ph.D. in paleontology from the University of California at Berkeley. He is originally from Hawaii, having attended school on Oahu from kindergarten through college. He has been writing about the Galapagos in historical, scientific, and conservation capacities for more than 35 years.
Darwin was born in 1809. He died in 1882.
Recent ESF News
News Archives
Communications & Marketing
SUNY-ESF
122 Bray Hall
1 Forestry Drive
Syracuse, NY 13210
315-470-6644