SHARE:
ESF Joins SUNY Puerto Rico Task Force
Effort focuses on helping residents recover from hurricane damage

2/6/2018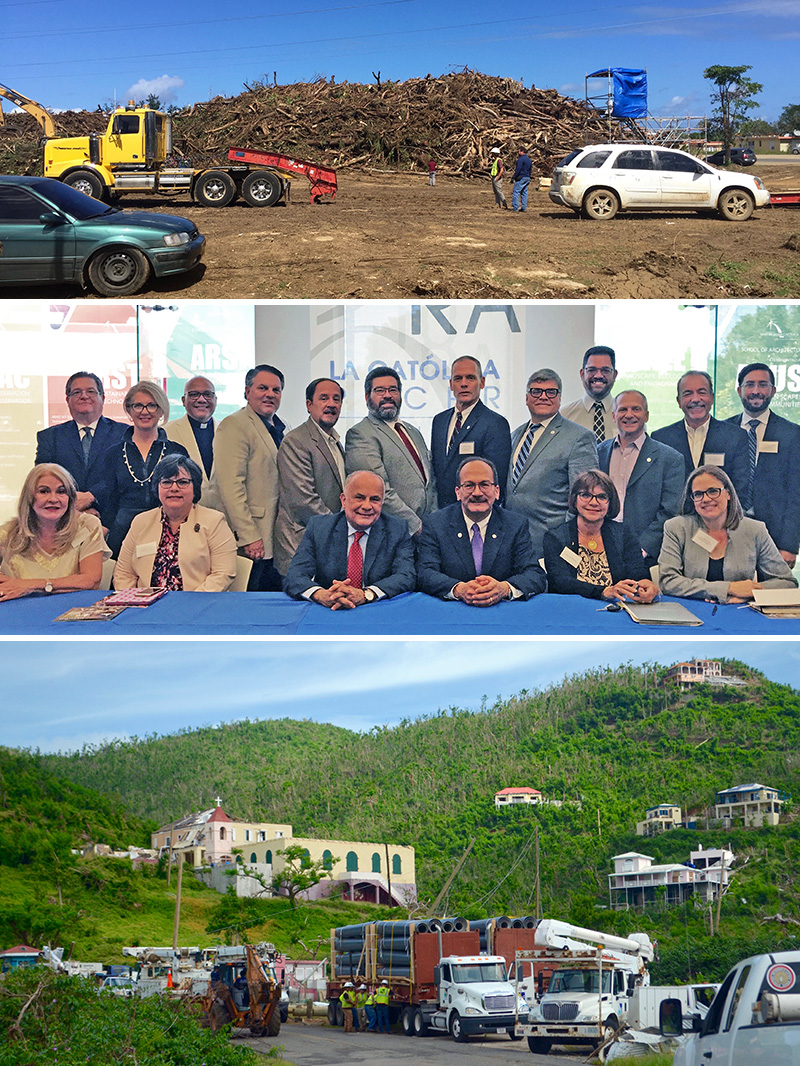 Late in 2017, SUNY Chancellor Kristina Johnson created a Puerto Rico Task Force, recognizing the "collective desire of [SUNY] students, faculty, and staff to help our fellow American citizens in Puerto Rico ... as they continue to recover from the unprecedented damage wrought by Hurricanes Irma and Maria months after they made landfall."
In recognition of his years of work in Puerto Rico and recent testimony to Congress about the state of disaster response, ESF Chief of Staff and Chief Sustainability Officer Mark Lichtenstein was invited by the chancellor to serve on the task force. According to Johnson, the group is working to channel "the significant expertise and service capacity of the broad SUNY community to partner with educational, governmental and non-governmental entities in Puerto Rico to support their short- and long-term efforts to recover and rebuild a sustainable, resilient and vibrant Puerto Rico."
The goals of the task force include the following:
Develop an action plan that enhances the long-term sustainability and vibrancy of Puerto Rican society as defined by residents of Puerto Rico through extensive and ongoing consultation with local partners and constituent groups.
Create reciprocal long-term and sustainable partnerships with selected institutions and entities in Puerto Rico that provide opportunities for SUNY students, faculty and staff to support recovery, re-building and resiliency on the island.
Leverage appropriate expertise and community service capacity of SUNY campuses, faculty, staff and students to support disaster relief and recovery efforts in Puerto Rico in consultation with local partners and constituent groups.
Develop a model for higher education crisis response using a service- learning framework that can be applied to other disasters nationally and internationally.
Members of the Task Force, including Lichtenstein, traveled to Puerto Rico last week to meet with members of the Puerto Rican community, including various campuses of the University of Puerto Rico system. The group learned that, more than four months after the hurricanes, 40 percent of the island's residents are still without electricity and 35 percent of the K-12 schools are closed. Lichtenstein will provide a briefing in the near future to members of the ESF community. He will outline potential service, applied learning and research opportunities for faculty, staff and students.
Other members of the ESF community will be involved as the project progresses. A new ESF student group, Acorns to Action, was formed in response to last year's devasting hurricanes and is focused on providing relief to affected areas in sustainable and culturally appropriate ways.
Recent ESF News
News Archives
Communications & Marketing
SUNY ESF
122 Bray Hall
1 Forestry Drive
Syracuse, NY 13210
Communications@esf.edu