SHARE:
Mighty Oaks Hoops Play at the Dome
Fall to conference rival Davis College 71-58

2/15/2018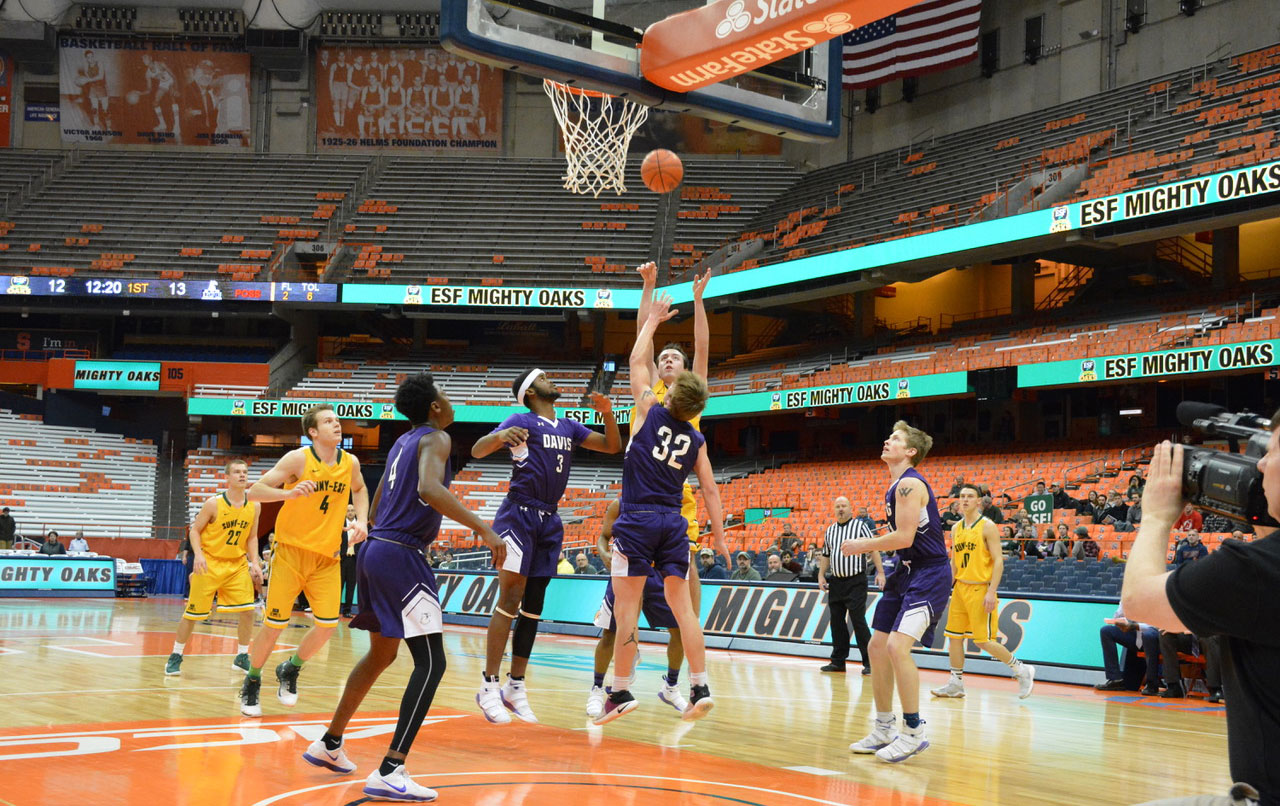 The Mighty Oaks hosted HVIAC conference foe Davis College Falcons at the Carrier Dome. It was ESF's first ever home game at the loud house. Prior to the game, ESF recognized its three seniors, captains Tyler Kuhn and Andrew Koch and guard Zane Paradies, for all their contributions to the Mighty Oaks basketball program.
The Falcons jumped out to an 11-5 lead early on. Freshman Zach Dormer and Kuhn helped ESF take back the lead, 16-15, with eleven minutes remaining. Davis College fought back with clutch three-point shooting. The Falcons took advantage of the ESF zone defense hitting a total of ten trifectas in the first half. An 11-0 run by the Falcons with four minutes remaining in the first half, helped Davis build a comfortable 44-34 lead at half time. Dormer led ESF with 15 points at the half.
At the start of the second half, ESF fought to get within five points with 15 minutes remaining. However each time the Mighty Oaks got within striking distance, Davis responded with a three-pointer. Feeding off the home crowd energy at the Dome, ESF would not go away. The Mighty Oaks big men duo of Kuhn and junior Cole Hartman kept ESF in the game. A basket by Hartman with ten minutes remaining put ESF down only two, 54-52. That was as close as ESF would get as Davis College went on a 12-0 run to put the game out of reach for the Mighty Oaks. The final score was 71-58.
Kuhn finished his ESF career with a monster game, 13 points and 20 rebounds. Dormer had 19 points for ESF. Jackson Henri led Davis College with a game-high 24 points, 6-11 behind the three-point line. Junior Tim Swan came off the bench to hit four three-pointers and finished with 12 points.
The game attracted several hundred fans from both schools.
ESF falls to 5-14 overall, 3-5 in conference play. Davis College finishes its season with a 10-13 overall record, 4-4 in conference play.
"I'm proud of the defensive effort we gave, especially to cut the lead to two in the second half, but we couldn't get the ball in the basket to complete the comeback. It was a great experience for our guys to be playing at the Dome and especially for our seniors for all that they've given to the program. Many thanks to Pete Sala and the Carrier Dome staff for giving us and the athletics program this opportunity," said Head Coach Scott Blair.
Recent ESF News
News Archives
Communications & Marketing
SUNY-ESF
122 Bray Hall
1 Forestry Drive
Syracuse, NY 13210
315-470-6644