SHARE:
Alumni Association Recognizes Outstanding Alumni
2017 Graduates of Distinction Award Recipients

5/30/2018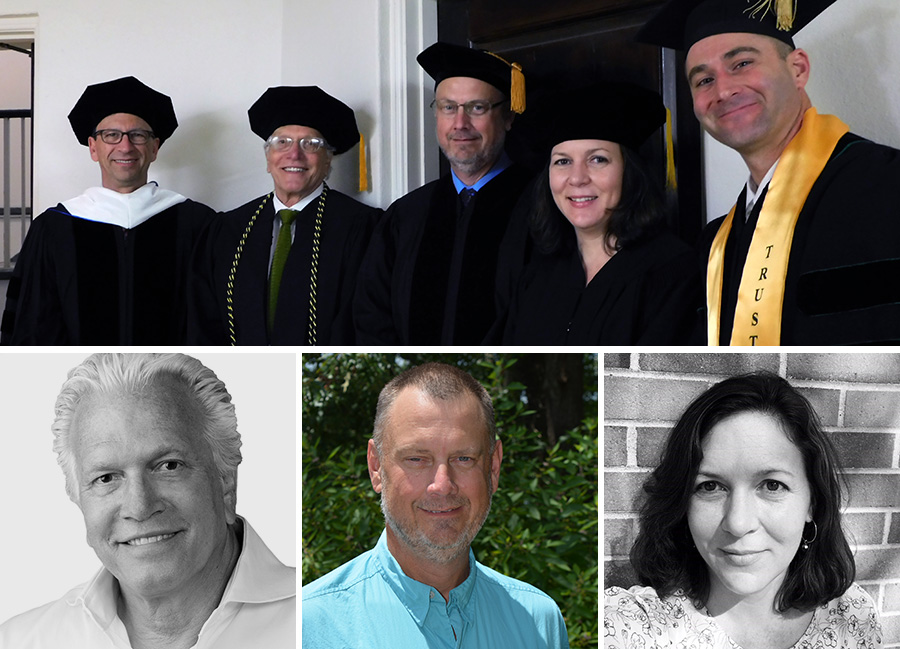 In 2005, the Graduates of Distinction Awards were established by the ESF Alumni Association to recognize the remarkable achievements of our alumni throughout the various stages of their careers.
This year's recipients serve as a testament to what can be accomplished when you graduate with a degree from ESF and pursue your passions.
Isabel A. Munck '02 EFB
Incipiens Quercu Award
Dr. Isabel Munck '02 is a shining example of a scientist who translates science into practice. After completing her MS in Environmental Forest Biology Forest Pathology and Mycology at ESF, she went on to continue her education with a Ph.D. from the University of Wisconsin-Madison, where her research results explained the emergence of a destructive threat to forests, but have contributed to changes in the behavior of managers entrusted to maintaining forest health.
Currently working as a forest pathologist at the Durham, New Hampshire field office of USDA Northeastern Area State and Private Forestry, Munck has become the stimulus for many new, productive relationships among academics, government agencies, forest managers and the public. She provides assistance to state and federal partners on all aspects of tree diseases.
Munck is a leader in identifying important health issues affecting trees and assembling teams of forest health specialists to deal with those issues. Over the past six years alone, partnering with dozens of university, state and federal researchers, Dr. Munck has coordinated and conducted evaluations on foliar pathogens, the reemergence of blister rust, and Caliciopsis canker of eastern white pine. As a result of her work on white pine blight and white pine blister rust fungus, a USDA multi-state research project on eastern white pine health issues has been approved. Dr. Munck has also provided the first report of bot canker in black oak and documented tip blight of hemlock in the region. She has represented the U.S. Forest Service on these and other issues at domestic and international meetings in Utah, Spain, Sweden, and Canada.
Her enthusiasm and commitment to sharing her knowledge of forest pathology are evident not just from the more than 45 presentations at conferences across the globe, but more importantly, from her commitment to educating the next generation of scientists as a mentor to numerous Ph.D. candidates.
Dr. Munck is a member of the American Phytopathological Society and served as vice chair and then chair of the Forest Pathology Committee in 2013 and 2014 respectively.
Dr. Thomas Moorman '91
Notable Achievement
Dr. Thomas A. Moorman '91 (Environmental and Forest Biology) is being recognized for his inspiring endeavors in advancing waterfowl conservation science by means of numerous publications, presentations, and ascending leadership positions at Ducks Unlimited (DU), the worldwide leader in waterfowl and wetland conservation.
As chief scientist at DU, Moorman is involved in national and international conservation, science and policy issues, and is the lead science contact in DU's work on wetland protection and the Clean Water Act. He is the key waterfowl science and habitat management liaison to DU Canada and DU de Mexico, with whom he actively collaborates on steering DU's distribution of resources and conservation programming. Prior to this, he served in a variety of roles at DU spanning more than 25 years. Starting out as a regional biologist in 1991, Moorman was promoted to Director of Conservation Planning ('98-'07), Director of Conservation Programs ('07-'09), Director of Science and Public Policy ('08-'13), and Director of Operations ('13-'17) before assuming his present role. The impactful contributions Moorman made include designing wetland restoration projects, developing conservation strategies, and overseeing the acquisition of funding.
Moorman has received a number of prestigious awards related to his pioneering impact on wetland and waterfowl ecology. He received a 25-year service award from Ducks Unlimited, and the Jim McDonough Award from The Wildlife Society (TWS), which is presented to TWS-Certified Wildlife Biologists who have excelled through development and implementation of new techniques and approaches in wildlife management and conversation. While a student at ESF, Moorman received the Wilford A. Dence Fellowship, which recognizes a graduate student who has achieved an exemplary record and demonstrated the potential for a successful career in wildlife and fish biology and conservation.
Moorman authored numerous publications on topics involving waterfowl, many in conjunction with renowned ESF professor Dr. Guy Baldassarre, who was Moorman's mentor and major professor while at the College. Moorman frequently presents papers at professional meetings and symposia.
Thomas W. Balsley '68 BLA
Lifetime Achievement
For more than 40 years, Thomas Balsley has been on the leading edge of change in Landscape Architecture. Few have had a larger physical impact on the quality of the urban environment than Mr. Balsley with his history as a designer of public spaces since opening his practice after graduation.
Mr. Balsley's New York City-based practice is best known for its fusion of landscape and urbanism in public parks, waterfronts, and plazas throughout the U.S. and abroad. Balsley's work has reshaped social and cultural spaces with robust, sustainable landscapes that enhance and enrich the lives of the individuals and communities who inhabit them. In New York City alone, he has completed more than 100 parks and plazas (to date), including the 2014 ASLA Honor Award-winning Hunter's Point South Waterfront Park and Gantry Plaza Park; Riverside Park South; Chelsea Waterside Park; Peggy Rockefeller Plaza; Capitol Plaza; and the recently completed 51 Astor Place plaza. In an unprecedented gesture, a small park on 57th Street was named Balsley Park in recognition of his design contributions to the city. His professional experience reaches far beyond the borders of New York City with downtown and waterfront parks in cities such as Dallas, Los Angeles, Detroit, Tampa and Baltimore's Inner Harbor as well as internationally with projects in Tokyo, Japan, Seoul, South Korea and Auckland, New Zealand, to name a few.
His unique fusion of creativity and innovation with public process has produced extraordinary spaces, both large and small, and has earned him more than 80 design awards and recognitions, including being named an American Society of Landscape Architecture (ASLA) Fellow and the recipient of the 2015 National ASLA Design Medal for his body of exceptional work.
In addition to regular speaking engagements at conferences and universities, including Harvard's Graduate School of Design, the University of Pennsylvania and Seoul National University, Balsley is committed to sharing his knowledge with the next generation of ESF Landscape Architecture students making it a point to return to campus often for the Sears and Albrecht lectures.
Recent ESF News
News Archives
Communications & Marketing
SUNY ESF
122 Bray Hall
1 Forestry Drive
Syracuse, NY 13210
Communications@esf.edu