SHARE:
Former ESF Cross Country Coach Inducted into USCAA Hall of Fame
John View led the Mighty Oaks to four straight national championships

5/31/2018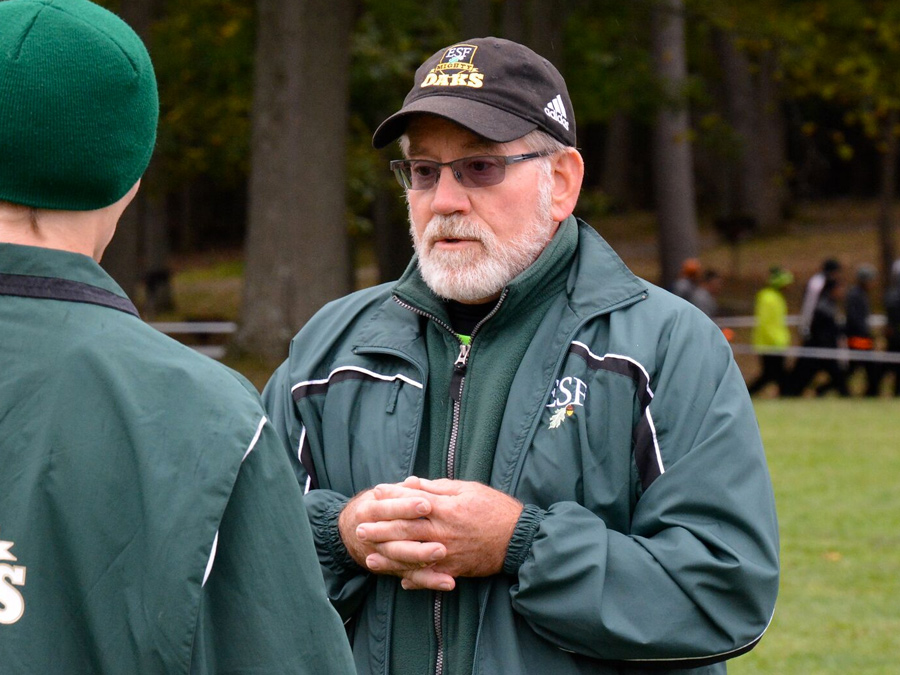 John View, former ESF men's and women's cross country head coach, will be inducted into the United States Collegiate Athletic Assoication (USCAA) Hall of Fame June 3.
View started the cross country program at ESF in 2008. He led the men's cross country team to four straight national championships from 2011-2014 before retiring from coaching after the 2016 season. In less than a decade, View upended the USCAA cross country ranks dethroning perennial favorite Dine College. Additionally, he had three men's runners win the overall championship and two women's runners finish in the top three.
View was a strong contributor to the USCAA. After being held for several years in Lake Placid, View spearheaded a bid to bring the national championships to Syracuse. Under View's leadership, the ESF program had significant growth in numbers and media coverage in 2013 and 2014. He was named USCAA Coach of the Year in 2014. He continues to serve as a consultant to the USCAA on cross country.
View grew up in Binghamton, New York and was an avid runner, lettering in track during high school. After graduating from St. Leo College, he earned his master's degree in education administration and leadership from the University of Notre Dame. View also earned a master's in business administration from Syracuse University. He began working at ESF in 1979 in the financial aid office and retired as director of financial aid in 2014.
"I am humbled and honored to be inducted into the USCAA Hall of Fame," said View. "For me it means that I was able to have a positive impact on the lives of the young men and women I coached. They had the talent, together we discovered how to channel it into success."
The induction ceremony will take place in Richmond, Virginia where the USCAA is headquartered.
Recent ESF News
News Archives
Communications & Marketing
SUNY-ESF
122 Bray Hall
1 Forestry Drive
Syracuse, NY 13210
315-470-6644