SHARE:
AECís McNulty Named President of OBFS
Organization supports field stations, research

6/5/2018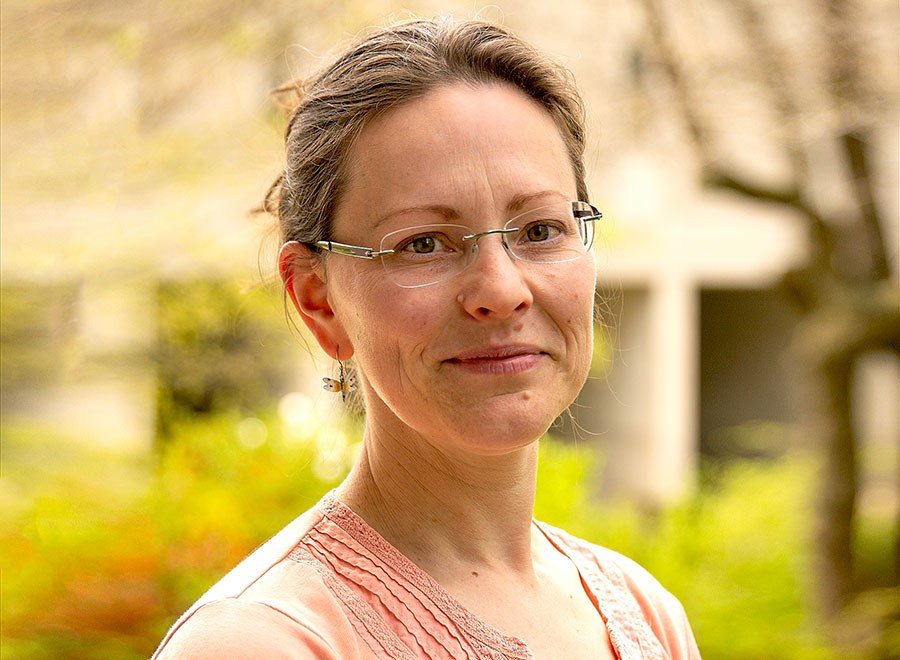 "We have a real opportunity to advocate for field-based natural and social science, along with arts and the humanities, to advance understanding and stewardship of the Earth" said Stacy McNulty, newly elected president of the Organization of Biological Field Stations (OBFS).
OBFS is an international organization that supports research, education and outreach at field stations and has existed for more than 50 years. ESF's Adirondack Ecological Center (AEC) has been an active member for approximately 25 years, said McNulty, who is an ecologist and associate director of the AEC, located in the Adirondack Mountains of upstate New York. Prior to becoming president, she served as board secretary, member-at-large and chair of the Human Diversity Committee.
Field stations are places where people gather to explore science-based solutions to community-based environmental issues. They connect society through shared goals, McNulty said, including caring for the land, using science to inform policy and making nature accessible to all. "It's critical to have places where science can happen in complex ecosystems," she said.
Members of OBFS operate high-caliber field facilities for scientists, students, teachers and the public to pursue understanding of environmental changes and challenges. The practice of place-based observation at field stations can enhance scientists' ability to see natural patterns and processes.
By enabling research and discovery in a real-world context, field stations can facilitate natural resource management and a more sustainable quality of life. Research teams tackle topics such as pollution and water quality, pollination, and potential wildlife-human disease spread by monitoring, experimenting and testing sensors in the field.
"OBFS members are doing important work worldwide," she said. There are approximately 1,200 field stations ranging in size from a few tents to large dorms and supported by university, government or non-profit organizations. These stations are located in diverse locations from desert to mountains to coastal regions.
OBFS members share data to address global and local challenges. "OBFS is focused on how to leverage science in public policy making. How are agencies using the best science? ESF has joined hundreds of other field stations to organize and use the information collected." OBFS also serves as an advocate for research funding and science as a critical need of society, said McNulty.
A vital role of field stations is documenting environmental conditions across space and time. "The AEC has records going back 85-plus years that show changes on the Huntington Wildlife Forest, including 350-year-old unmanaged forests, lakes and experimentally-manipulated forest stands," she said.
Field stations provide opportunities for students to develop academically and personally, she said. "Students are doing hands-on science and gaining skill sets they may not encounter in the classroom. They connect the dots. For example, students learn to set fish nets while navigating varying field conditions, and then use cutting-edge geoinformatics and modeling tools to explore key questions."
Professional development and training at field stations is both rigorous and comprehensive. "At the AEC, ESF students meet peers, faculty and practitioners from other institutions. Informal conversations at meals and around the fire pit in the evening provide rich experiences and even a window into their career," said McNulty. Networking often leads to information sharing and collaboration.
Field stations provide a safety net for research teams by providing staff who know the area, provide advice, and guide them to the optimum site for the researcher's needs. "Our staff can provide support and leverage what we already know to help scientists," she said.
The OFBS in turn provides assistance to the field stations via logistical support and expertise sharing. "Station directors and managers must understand how to manage facilities, staff and budgets which requires a different set of skills beyond technical expertise," McNulty said "We get together, share strategies and troubleshoot. I like to joke that we talk about science, sustainability and sewers."
Field stations often serve the public. "At ESF's Adirondack Interpretive Center (AIC), educators put science in context so visitors can explore what scientists are doing," McNulty said. "We form relationships with teachers, community leaders, and neighbors, and work with diverse groups of people from all walks of life."
There's also an interdisciplinary aspect to field stations that brings in the arts and humanities. "People can attend a lecture on warblers' use of color to communicate or learn how to dye wool with mushrooms," McNulty said. The environmental philosophy program at AEC melds how we think about natural places with explorations of principles of ethics and shared inquiry. "Field stations can serve as cultural centers and celebrate what is unique about an area."
"On a bird watching walk or snowshoe trek, we're sharing science in enjoyable ways with citizens and showcasing student research," said McNulty. As an example, AIC hosted an environmental-themed movie series this past winter. In summer, AIC will host a landscape artist and journaling workshops. "Field stations provide a resource for the community and offer something fun," she said.
Field stations, she noted, don't feel as formal as a traditional academic setting. "They're more accessible," she said. McNulty recalls a high school student who participated in a job shadow program at the AEC and returned to ESF for college. "Younger people begin to see their future. Field stations make that idea real."
Recent ESF News
News Archives
Communications & Marketing
SUNY-ESF
122 Bray Hall
1 Forestry Drive
Syracuse, NY 13210
315-470-6644