SHARE:
College of Forestry Campus Expands
New dedicated to Louis Marshall

2/8/2011
Bray Hall was the only building on the ESF campus until Marshall Hall's completion in 1933.
When then-Governor Franklin D. Roosevelt endorsed the proposal for Louis Marshall Memorial Hall, he wrote, "Probably more than any other man, Mr. Marshall was responsible for a greatly increased interest throughout the State on preservation of the Adirondacks and at the same time in the practical development of the science of forestry." The request was approved by the legislature in March, 1930. (Forestry College Essays on the Growth and Development of New York State's College of Forestry, 1911-1961)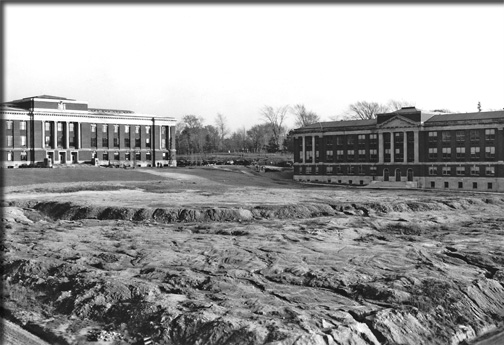 The building filled a critical need for additional teaching and laboratory space for the College's expanding programs and student enrollment. The construction cost for the 90,060-square-foot building was $501,000.
Marshall Hall now serves as a hub for activity on campus. It contains Marshall Auditorium, Alumni Lounge (known informally as Nifkin Lounge), the Gallery snack bar and the campus bookstore. It houses academic programs in landscape architecture and environmental studies and the offices of ESF Outreach.
Recent ESF News
News Archives
Communications & Marketing
SUNY ESF
122 Bray Hall
1 Forestry Drive
Syracuse, NY 13210
Communications@esf.edu