SHARE:
2019 Commencement: 'You Are My Family,' Student Speaker Says
ESF celebrates 118th class of spring graduates

5/14/2019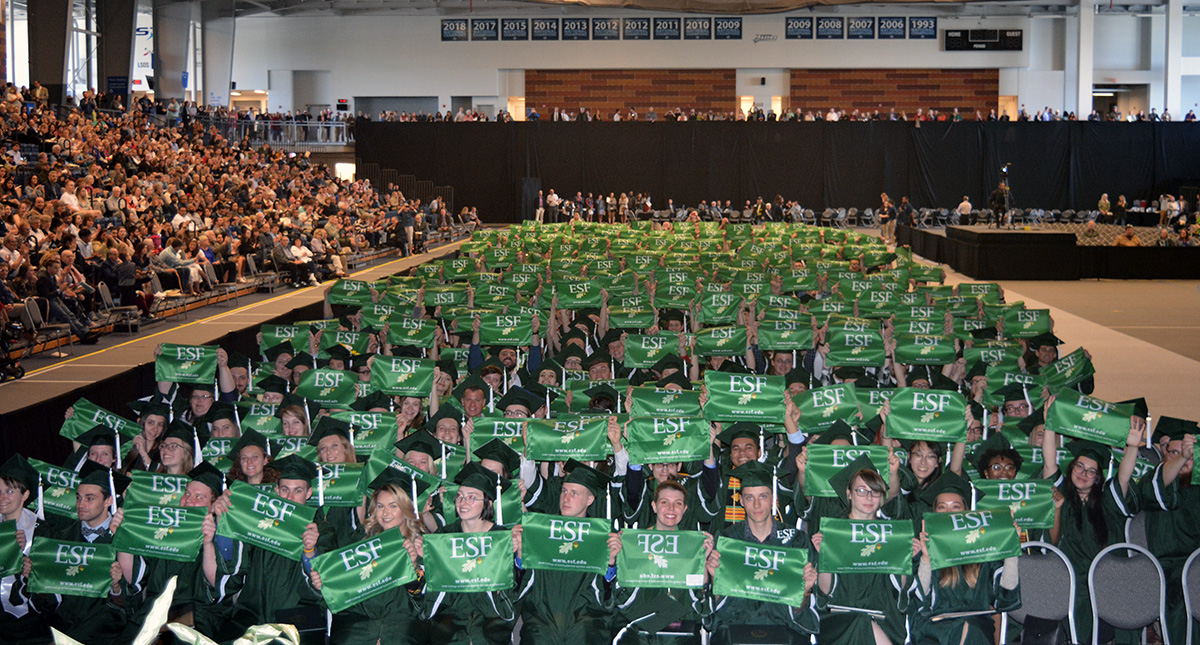 "The main reason I chose to attend ESF was because of Earth Week," said Nafisa Tabassum, the student speaker for ESF's 118 Commencement exercises. "I desired to be surrounded by a cohort of others who cared about the environment with the same fiery passion as myself and one whole week dedicated to the enrichment of minds and betterment of improving our world sparked a torch in me that I support to this day."
Speaking on the theme of "family," the first-generation Bengali-American said, "Family is not reserved just for blood relatives, community can be found in any setting and we, graciously, found it in each other at ESF. If one thing is for sure, I definitely did not need Gen Bio to know that we are all related.You are my family. Through our own personal evolutions and the collective progress of the friends around us we came to love and respect one another as we would our parents, guardians, grandparents and siblings."
Tabassum said that even before arriving at ESF from Long Island City, she found family in SEO (Sponsors for Educational Opportunity), a mentoring program that helps underserved students gain admission to competitive colleges and universities.
Referencing Ken Kesey's Sometimes a Great Notion, Interim President David Amberg told the graduates, "Although many of you may share majors and experiences, your journeys have been completely unique, just like no creek's path can be superimposed on another. Now, collectively, today you will leave ESF, the class of 2019, as a 'great clan marshalling into an army, rallying, swelling, marching to battle' to make a difference in the world, to Improve Our World."
During the ceremony Dr. Bernard Amadei, Distinguished Professor and professor of civil engineering at the University of Colorado at Boulder and founding president of Engineers Without Borders - USA (EWB) and the co-founder of the Engineers Without Borders-International network, was presented with an Honorary Degree.
He gave the graduates a call to action, "Make the world a better place. Our world needs you to commit to disrupt poverty, disrupt injustice, disrupt violence and disrupt the systems that support and encourage ill forms of behavior on our planet. As human beings, we can do better than what we are doing right now … To all of you, who are doing that today, thank you. To all of you who consider doing that, go for it and be bold. To all of you, who are still confused, join us when you are ready."
Graduate Kiley Voss presented the class gift of countertop seating along the south-facing windows in the Gateway Center to increase seating in the popular campus gathering place called, "Neil's Place." It is named in honor of former ESF President Cornelius B. Murphy, Jr.
Commencement weekend festivities included the Inclusive Excellence Graduation Reception May 9, the Higher Degree Ceremony and Reception May 10, ESF Commencement May 11 and Joint Commencement exercises with Syracuse University May 12.