SHARE:
Dr. Jacqueline Frair Presented with Exemplary Research Award
Work in wildlife research recognized

5/14/2019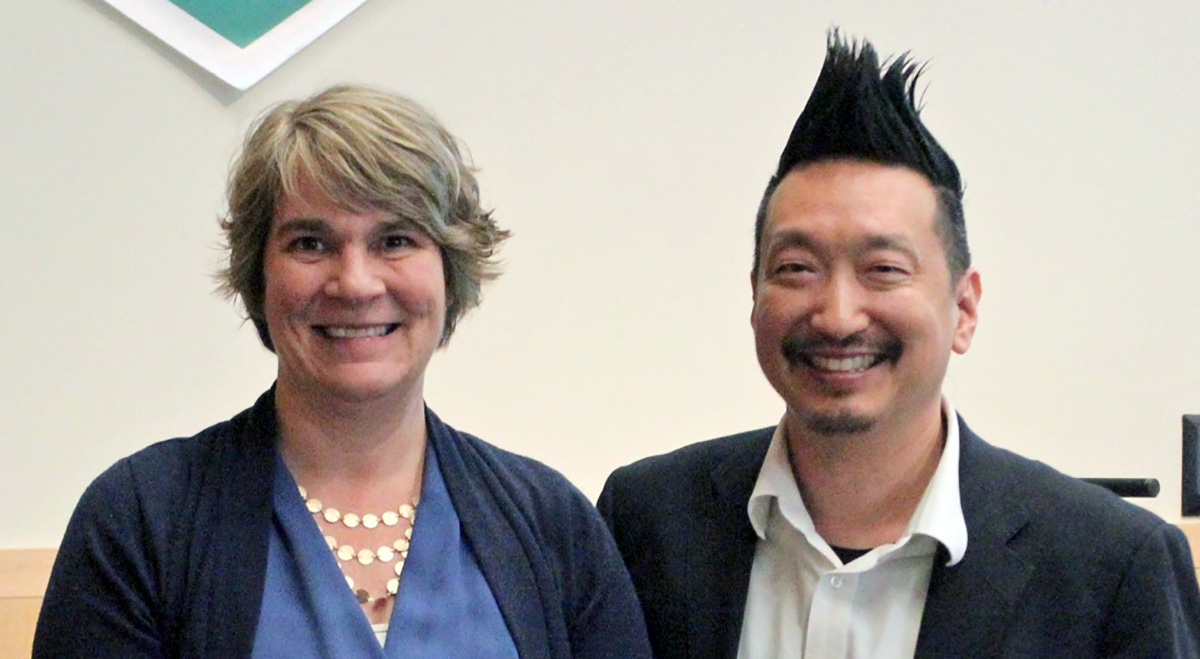 Dr. Jacqueline Frair, associate professor in ESF's Department of Environmental and Forest Biology (EFB), was named the College's Exemplary Researcher for 2019-20.
As the curriculum coordinator for EFB's wildlife major as well as Roosevelt Wildlife Station (RWLS) associate director, Frair has spent countless hours building a nationally and internationally recognized wildlife program at ESF.
She chaired search committees and brought in two new wildlife faculty, and works closely with ESF's College Foundation to fundraise for the RWLS and engage with the Boone and Crockett Club and later the Camp Fire Club to secure more than $1 million in funding for ESF's first-ever Camp Fire Conservation Fund Professor.
Frair has served as a science adviser to the New York State Fish and Wildlife Management Advisory board since 2006. She has worked with the New York Department of Environmental Conservation Wildlife partners and secured multiple umbrella omnibus DEC agreements of more than $9 million that goes toward supporting EFB's wildlife program. She has successfully mentored junior wildlife faculty to become successful in their programs. She is a go-to wildlife researcher in New York state and her graduate students and postdocs have done research on a multitude of wildlife.
Frair is a leading quantitative biologist in her field with her most cited work on developing novel approaches or extending analytical tools to study animal populations over multiple spatio-temporal scales. She has served since 2012 as an associate editor for the Journal of Applied Ecology supervising nine to 10 articles per year and reviewing four to six articles per year.
In addition to her contributions to New York wildlife research, Frair also has a significant national and international program that is widely recognized in the academic community. She is an active mentor of The Wildlife Society (TWS), working with the local chapter and was recently elected to serve as president of the Northeast section of TWS. She was inducted as a Fellow of The Wildlife Society in 2014. She does research in North America on a multitude of mammals including fishers, river otters, white-tailed deer, coyotes, wolves and moose in North America, as well as jaguars in South America, peccary in Paraguay, giant tortoises in the Galapagos, Amur tigers and leopards in Russia, and large cats and human conflict in Kenya and Tanzania.
She won The Wildlife Society's Northeastern Adviser of the year award in 2011 and has received numerous other awards at ESF, including both the Undergraduate Student Association Outstanding Teaching Award and the USA Outstanding Academic Advisor Award. Frair has mentored seven postdoctoral associates, two Ph.D. students and 10 master's students. She is currently mentoring two Ph.D. and two M.S. students, and has served on more than 50 committees, including five at Syracuse University.
Recent ESF News
News Archives
Communications & Marketing
SUNY-ESF
122 Bray Hall
1 Forestry Drive
Syracuse, NY 13210
315-470-6644