SHARE:
ESF Employees Honored with SUNY Chancellor's Awards
Faculty, staff receive numerous accolades

5/14/2019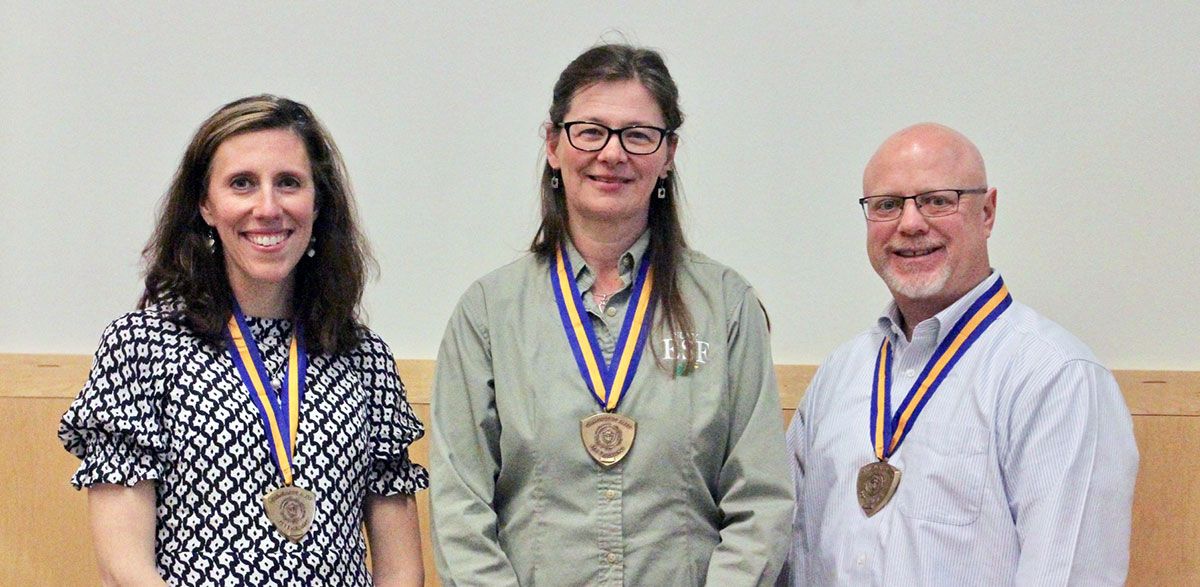 Four ESF employees were honored with SUNY Chancellor's Awards. Honorees were Dr. Robert Malmsheimer, Chancellor's Award for Excellence in Teaching; Dr. Melissa Fierke, Chancellor's Award for Excellence in Faculty Service; Dr. William A. Powell, SUNY Chancellor's Award for Excellence in Scholarship and Creative Activities; and Laura Crandall, SUNY Chancellor's Award for Excellence in Professional Service.
The Chancellor's Awards for Excellence are system-level honors conferred to acknowledge and provide system-wide recognition for consistently superior professional achievement and to encourage the ongoing pursuit of excellence. The awards provide SUNY-wide recognition in five categories: Faculty Service, Librarianship, Professional Service, Scholarship and Creative Activities, and Teaching.
Dr. Robert Malmsheimer, Department of Forest and Natural Resources Management (FNRM), was recognized for Excellence in Teaching. He is characterized by colleagues and students as an exceptional teacher, who demonstrates dedication, compassion and commitment to students in his classes and his advisees. He works to continually update his course content and teaching methods; he works with graduate students to produce policy-relevant, cutting-edge research; and always has time for his students. He has advised hundreds of ESF undergraduates from forestry to pre-law, dozens of joint degree FNRM/Syracuse University law students and ESF graduate students. His four undergraduate courses, where he teaches 270 to 300 students every year are among the highest ranked by student evaluations.
Malmsheimer is a dedicated teacher that other ESF professors request guest lectures from him and he has provided more than 130 such lectures in the past 20 years.
Malmsheimer has been recognized by the Undergraduate Student Association (USA) as the recipient of the Distinguished Teaching Awards in 2001 and the ESF College Foundation's Award for Exceptional Achievement in Teaching in 2011. In 2018, he was unexpectedly named interim department chair. He didn't cancel his courses or assign someone else to teach them, which his students noticed and sincerely appreciated.
He also finds time for influential contributions to forest carbon accounting and national forest system litigation, including science-based briefings to legislative and administrative policymakers in the US and Europe. The policymaking lessons he gains from this work enrich his teaching.
Dr. Melissa Fierke, chair and associate professor in the Department of Environmental and Forest Biology, and director, Cranberry Lake Biological Station, was awarded the Chancellor's Award for Excellence in Faculty Service.
Fierke has been recognized twice by the College for her extraordinary service, having been awarded the ESF President's Award for Public Service and Outreach two years in a row. In addition to having the highest teaching load in EFB, Fierke took over as co-director of the department's Cranberry Lake Field Station, implementing numerous progressive changes, from coursework, to housing, to budgeting.
She served as associate chair, and is now the first woman chair in EFB.
At the college level, Fierke was a highly respected member of the President's Leadership Council. Last spring, she was elected by the ESF faculty and professional staff to be the executive chair of ESF Academic Governance. Prior to that role with Academic Governance, Fierke was the executive secretary. She has served on numerous college committees and department search committees.
Fierke is popular among undergraduate and graduate students. She has brought ESF science to many public fora, and manages an active research program in forest entomology, forest health and ecology. Her activism for safe bicycling in Syracuse paid off in new bike lanes.
Dr. William Powell is the recipient of the SUNY Chancellor's Award for Excellence in Scholarship and Creative Activities.
He and his team run one of the most significant research programs in the history of ESF. They have developed blight-resistant American chestnut trees and are focused on getting federal approval to release disease-resistant trees so this species can return to its economic and ecological importance in the United States.
Powell ranks among ESF's top faculty members in acquiring extramural funding. Over the last decade, he has brought in nearly $3 million dollars for his research. Last year, he obtained nearly $500,000 in research funding. He has a distinguished record of publishing in peer-reviewed journals, and his published research has been cited more than 2,000 times.
Powell joined ESF in 1989. Two years later, he was named director of the American Chestnut Research and Restoration Project. He also serves as director of the Council on Biotechnology in Forestry and a scientist-in-residence with the Roosevelt Wild Life Station at ESF.
Laura Crandall is the recipient of the SUNY Chancellor's Award for Excellence in Professional Service.
Crandall currently serves as the director of Student Involvement and Leadership. She is involved a long list of student programs and activities. She advises 40 student organizations and special interest groups, she organizes big-scale events, including orientation, convocation, and alumni/family weekend, she works with the Undergraduate Student Association to help student leaders be advocates for themselves, she organizes campus days of service and she created the Emerging Leaders program to help students develop their leadership skills.
Ask any ESF student who Crandall is, and they've probably worked with her at some point. She's an enthusiastic and high-energy person whose involvement and visibility at campus events is impressive. As an ESF alumna, Crandall knows how to be an advocate for the students at ESF and she works tirelessly to improve their experience here. As her work on the Quality of Work Life Committee demonstrates, she works hard to create a positive community for staff and faculty as well.
Recent ESF News
News Archives
Communications & Marketing
SUNY-ESF
122 Bray Hall
1 Forestry Drive
Syracuse, NY 13210
315-470-6644