SHARE:
Research Foundation of SUNY Celebrates 60 Years
Foundation's first contract was with ESF

2/15/2011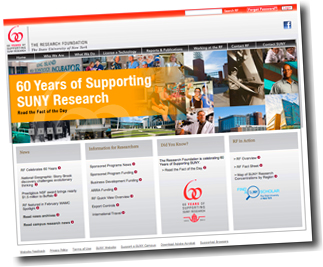 The Research Foundation of State University of New York marks its 60th anniversary this year.
Established in 1951 to help provide more opportunities for SUNY students, faculty, staff and alumni, and the people of the state of New York, the Research Foundation has become the largest university-connected research foundation in the country.
Just two months after it was established, the Research Foundation signed its first contract for $32,000 to support research on wood processing and paper-making at the SUNY College of Environmental Science and Forestry (ESF). The agreement specified that the scarcity of conifers available for pulping in the Northeast made it imperative to research other sources of papermaking fiber from native woods.The contract was intended to support research into a new pulping method and carry it to commercial operation.
"As the beneficiary of the Research Foundation's work on its very first contract, this milestone has particular significance at our campus," said ESF Distinguished Professor Myron J. Mitchell, who is also and director of the Council on Hydrologic Systems Science at ESF and vice chair of the Research Foundation board of directors. "SUNY students are prime beneficiaries of the work of the Research Foundation. There is a direct link between the Research Foundation's capabilities to provide key resources to campuses and faculty and the ability for students to receive quality instruction while working side by side with faculty on sponsored program research."
"Congratulations to the Research Foundation on reaching this milestone of longevity and success," said State University of New York Chancellor and Research Foundation Board of Directors' Chair Nancy L. Zimpher. "Innovation is the foundation for the 21st century jobs New York State needs to be the economic leader it must be. The Research Foundation's role in supporting SUNY in our mission to revitalize the Empire State is more critical than ever. With the RF, we will continue to assemble the assets needed to move New York forward. With the RF and SUNY strategic goals clearly aligned, the Research Foundation serves as a key driver of the economic engine that is SUNY."
"Sixty years ago the Research Foundation was established to serve SUNY, and 60 years later we're doing just that," said John J. O'Connor, President and CEO of the Research Foundation and Senior Vice Chancellor for Research and Innovation for SUNY. "With challenges and opportunities having increased at an exponential rate, we remain true to our mission to receive, hold and administer grants, and to finance the conduct of studies and research in any and all fields of the arts and sciences in keeping with the educational purposes of SUNY."
Today, the Research Foundation supports over $1 billion in SUNY research activity annually and is a major player in the development of entrepreneurial activity and economic development across New York State.
Recent ESF News
News Archives
Communications & Marketing
SUNY-ESF
122 Bray Hall
1 Forestry Drive
Syracuse, NY 13210
315-470-6644