SHARE:
ESF Professor Honored by Russian University
Dr. Guy Lanza recognized for contributions to new environmental science program

7/8/2019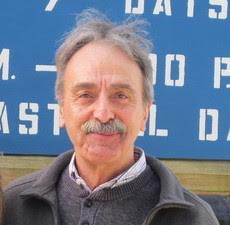 Dr. Guy Lanza, adjunct professor at the SUNY College of Environmental Science and Forestry (ESF) was awarded an Honorary Doctorate in Biology from the University of Tyumen (UT) in Russia.
Lanza, a member of the college's Department of Environmental and Forest Biology (EFB) was recognized for his contributions to new program development at UT over the past nine years. In July Lanza was part of an ESF team including Interim President David Amberg and professors Donald Leopold and Lee Newman, who traveled to Western Siberia and Kazakhstan to continue the development of new multidisciplinary teaching and research programs in the environmental sciences.
During the visit, ESF and UT faculty agreed to develop new research and teaching programs, including dual diploma options in restoration and remediation that will involve both faculties and students. Amberg signed a Memorandum of Agreement outlining the new joint programs with Valery Falkov, the rector of UT. The ESF team also visited faculty and administrators at Pavlodar State University (PSU) in Northern Kazakhstan near the border with Western Siberia. The Kazakhstan initiative was funded by a program development grant from American Councils in Washington, D.C. Faculty and administrators from PSU will visit ESF in July to continue planning for joint programs that emphasize multidisciplinary approaches to restoring and remediating contaminated ecosystems which face additional stress from climate change.
Lanza has been actively working with UT since his first trip to Western Siberia as a Fulbright Scholar in 2010. In 2015 he was appointed as secretary of the UT International Expert Advisory Council, which oversees the development and modernization of UT teaching and research programs. According to Lanza, UT is "very keen on establishing global environmental partnerships that will foster student exchange programs and faculty research initiatives in Eurasia and North America." During his first visit, Lanza became aware of the unique opportunities in Siberia to study landscape-level ecological responses to climate change in a rapidly developing region of the world.
Siberia has been part of Russia since the 17th century. It extends eastward from the Ural Mountains to the watershed between the Pacific and Arctic drainage basins. The Siberian region stretches southward from the Arctic Ocean to the hills of North Central Kazakhstan and then to the national borders of Mongolia and China. Maknig up about 77 percent of Russia's territory (13.1 million sq km), it is home to only 28 percent (40 million people) of Russia's population. The region's relatively sparse population helps to explain the existence of its many pristine ecosystems, which are experiencing the effects of climate change.
Siberia offers a vast natural laboratory for universities to gain insights on the global effects of climate change on both natural ecosystems and those in use for energy development, mining and agricultural purposes. Siberia offers unique study abroad opportunities for students and faculty in a geographical region constituting most of North Asia, and it occupies an astonishing 10 percent of the world's total land mass.
The Siberian landscape has abundant forests, wetlands, peat bogs, lakes and rivers. These vast regions are a global source of essential oxygen. Siberia's regional photosynthetic contribution serves as the "lungs" of Europe and North Asia, assuming a similar role to that of the Amazonian rain forests in the Southern hemisphere. Western Siberian lowlands are the world's largest high-latitude wetland, ranking second only to the Amazon Basin among the world's largest wetlands. These northern peat lands serve as a major pool of stored carbon, representing a significant component in total planetary carbon sequestration and emission calculations. Western Siberia peat lands offer many opportunities for faculty and students to study the impacts of climate change on the rate of peat decomposition and the release of major greenhouse gases, notably carbon dioxide and methane. One good example of the global importance of the peat lands is evident in the research of K.V. Kremenetski and his colleagues who studied the peat lands of the Western Siberian Lowlands (WSL). They noted that the impact of the peat lands on the discharge, geochemistry and sedimentology of the Ob' and Yenisei rivers is of major importance to the hydrology of the Arctic Ocean and, potentially, to global ocean circulation and climate.
There are other reasons to choose Siberia as a natural laboratory to study climate change. In his book "The Revenge of Gaia," scientist James Lovelock outlined the complex feedback mechanisms that characterize earth and how they interact. Lovelock discussed the work of Richard Betts, who in 1999 first observed that the boreal forests of Siberia and Canada are dark and heat-absorbing and how, as the planet warms, they extend their range and thus absorb more heat. We now know from satellite images and historical photographs that the vast expanses of frozen tundra and bare ground in the Arctic are changing. Richard Sturm and his colleague Ken Tape, working in Alaska, compared photos from the 1940s with photos taken by helicopter 50 years later, which showed that in 87 percent of the scenes, green elder and to a lesser extent dwarf birch and willow trees have grown bigger.
There are many important areas of common interest between ESF, UT and PSU. Founded in 1911, ESF is the nation's oldest school dedicated to the study of the environment, developing renewable technologies, and building a sustainable future. The academic interests of ESF mirror those of The Research Institute for Ecology and Environmental Management (RIEEM) at UT. RIEEM is heavily engaged in environmental research including mining operations, agricultural expansion as it interfaces with biodiversity conservation, and the impacts of oil and natural gas production on the tundra ecosystems of Northern Siberia. ESF and UT share interests in land restoration and remediation, and the ecology of insect-vectored diseases including ticks, which are common threats in impacted areas challenged by the effects of climate change. The opportunities to develop quality academic programs in the environmental sciences in the "new frontiers" of Siberia and Kazakhstan are numerous and unique.
Recent ESF News
News Archives
Communications & Marketing
SUNY-ESF
122 Bray Hall
1 Forestry Drive
Syracuse, NY 13210
315-470-6644