SHARE:
ESF Student Participates in SEA Semester
Emily Klimczak conducts research in the Caribbean

12/4/2019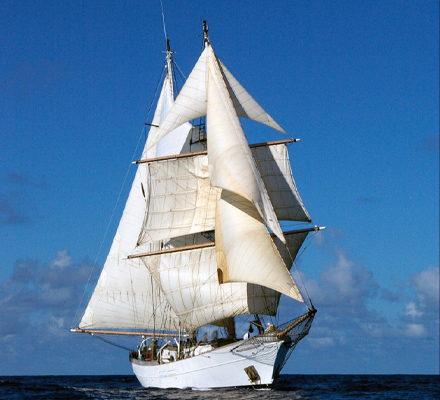 SUNY College of Environmental Science and Forestry (ESF) student Emily Klimczak is currently on an ocean research voyage to study human impacts on Caribbean coral reef ecosystems.
Klimczak, a junior conservation biology major, together with students from a range of diverse institutions will conduct guided field research at sea sailing through the Lesser Antilles between St. Croix, U.S. Virgin Islands and Grenada through SEA Semester: Caribbean Reef Expedition. The program is offered by Sea Education Association (SEA).
Coral reefs face many threats, including overfishing, reduced water quality, and rising temperatures and lower pH caused by climate change. Effective solutions require an understanding of the economic, political, and cultural landscape, as well as ocean and climate science. SEA Semester: Caribbean Reef Expedition examines diverse tropical marine ecosystems and the impact of human action upon them. Student research considers how local, academic, governmental and international organizations and businesses are working together to conserve and sustainability manage these ecosystems which are vital to both healthy oceans and coastal communities.
The students arrived in early October at SEA Semester's campus in the oceanographic research community of Woods Hole, Massachusetts for about six weeks of on-shore preparatory coursework. With full access to SEA faculty, guest lecturers and other world-renowned scientific institutions within the village of Woods Hole, students designed original research projects to be completed at sea. The shore component continued with 10 additional days at a field station in St. Croix, U.S. Virgin Islands.
After boarding the SSV Corwith Cramer, SEA's 134-foot brigantine, the students set sail on Nov. 24. The ship will serve as their home, classroom, and laboratory for the next four weeks. All students become full working members of the ship's crew, sharing responsibilities for standing watch, processing oceanographic samples, navigating by the stars, and participating in round-the-clock operations.
Recent ESF News
News Archives
Communications & Marketing
SUNY-ESF
122 Bray Hall
1 Forestry Drive
Syracuse, NY 13210
315-470-6644