SHARE:
ESF to Host Undergraduate Research Conference
Event gives undergrad opportunity to showcase research and artwork

2/27/2020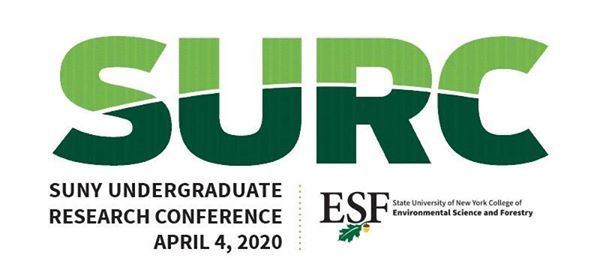 The SUNY College of Environmental Science and Forestry (ESF) will host one of two conferences that showcase undergraduate work of SUNY students.
The Sixth Annual SUNY/CUNY Undergraduate Research Conference (SURC) will take place on ESF's Syracuse campus April 4. SUNY Old Westbury will host the second SURC on April 24. SURC is a multidisciplinary event that brings together undergraduate students and faculty mentors from across the SUNY/CUNY system for a day of activities.
Dr. Robin Kimmerer, Distinguished Teaching Professor at ESF and director of the Center for Native Peoples and the Environment, will deliver the keynote. Kimmerer's research interests include the role of traditional ecological knowledge in ecological restoration, and the ecology of mosses. In collaboration with tribal partners, she and her students have an active research program in the ecology and restoration of plants of cultural significance to Native people. She is an enrolled member of the Citizen Potawatomi Nation. Her latest book "Braiding Sweetgrass: Indigenous Wisdom, Scientific Knowledge and the Teachings of Plants" was released in 2013 and has spent multiple weeks on the New York Times Paperback Nonfiction Best Sellers list.
The SURC includes student presentations (oral, artistic displays, and poster), luncheon, speakers, and a SUNY graduate school fair. The event will also include tours of the ESF campus focusing on the College's sustainability projects and programs.
"SURC offers students the opportunity to showcase the work they've created during the academic year, and network with students and faculty from across the SUNY/CUNY system," said Dr. David Newman, interim provost at ESF. "This is a unique academic enrichment opportunity."
Students can choose between either of the two host campuses for the presentation of their research and creative activity projects. Information on presenting during SURC and attending the conference is available on the SURC 2020 website.
SURC is supported by the Offices of the Chancellor, Provost, and Research Foundation, as well as SUNY student and faculty governance organizations. All undergraduate students engaged in research and their mentors across SUNY and CUNY are invited to attend.
Recent ESF News
News Archives
Communications & Marketing
SUNY-ESF
122 Bray Hall
1 Forestry Drive
Syracuse, NY 13210
315-470-6644