SHARE:
3-10-20 Racial bias incident in Centennial Hall


3/10/2020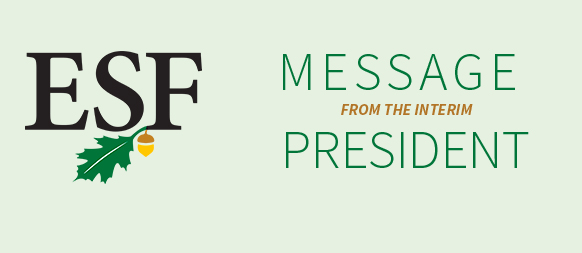 Dear ESF Community,
Today, an instance of bias targeting individuals based on race was found in Centennial Hall and has been posted to social media. Specifically, a flyer was mounted outside a resident's door indicating that the occupants were quarantined. No one is quarantined for any reason inside Centennial Hall or any other building on the ESF campus. Furthermore, should we need to quarantine a community member in the future, we would not use Centennial Hall for this purpose. ESF has pledged to do whatever we can to protect the safety and well-being of every member of our community. Currently, ESF University Police are investigating the incident.
The college has zero tolerance for incidents of bias, racism, and hate to ensure our entire campus community can live, study and work in an inclusive and safe environment. If you have questions or information about this incident, contact University Police at 315-470-6667.
Our long-term response to any incidence of bias and discrimination remains intact and progress updates are forthcoming. As a reminder, ESF's bias reporting system provides ESF students, staff, and faculty with an avenue to report incidents of bias, bigotry, or hate that occur on our campus or in off-campus settings that impact ESF. Access and report at https://www.esf.edu/ide/bias.htm.
Students who would like to talk are invited to call ESF Counseling Services at 315-470-4716. Dr. Lizette Rivera, the new Director of Student Inclusion Initiatives (Office of Inclusion, Diversity and Equity) is also available to discuss this incident or any other concerns you may have. Dr. Rivera can be reached at lrivera@esf.edu or in 445 Baker Lab. For staff and faculty, support is available through the Employee Assistance Program coordinated by Nan Clark (nfclark@esf.edu, 315-470-6726).
I ask that as a campus community, we remain diligent and responsible to collectively reporting incidents of bias. Anonymous, anti-bias reporting can be done by clicking https://www.esf.edu/ide/bias.htm.
Sincerely,
Dave Amberg
Interim President
Recent ESF News
News Archives
Communications & Marketing
SUNY-ESF
122 Bray Hall
1 Forestry Drive
Syracuse, NY 13210
315-470-6644