SHARE:
3-16-20 Message from the Interim President: Syracuse University Dining Halls to Close


3/16/2020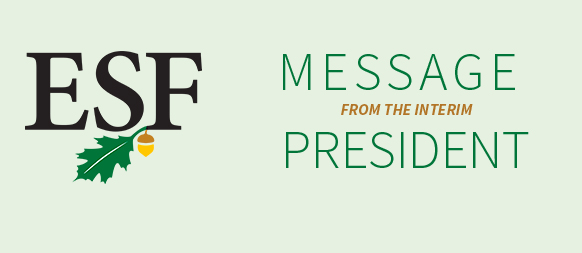 Dear ESF Community,
In accordance with direction from Governor Cuomo, Syracuse University has notified ESF that on-campus dining halls will shift to take-out only and Barnes Center (their gym) will close as of 8:00 p.m., effective this evening. While Syracuse University has committed to meeting the needs of students who must remain on campus, today's message encourages SU students who can depart campus for the semester to consider doing so.
This decision is designed to help slow the spread of the novel coronavirus, or COVID-19. As I have shared in recent messages and discussed earlier today in a Town Hall, ESF is also committed to slowing the spread of COVID-19. I ask that you implement social distancing measures immediately in your work area. Employees are encouraged to discuss remote and/or flexible work options with supervisors.
Students, we are committed to providing your coursework online. ESF prides itself on its interactive and engaged teaching. We understand this is a challenging time, yet we will ensure that your educational experience is high quality, infused with opportunities for feedback and discussion. Please know that many of us are working diligently to transition from face-to-face instruction to virtual instruction. At the moment, our campus remains open. Centennial Hall remains open for students who chose not to leave for spring break. This was a decision designed to ensure that people who traveled for spring break did not unintentionally bring the virus back to campus. We look forward to welcoming those who did travel for spring break back when we resume face-to-face instruction.
As always, thank you for your support, and please continue to watch the website and social media for updates. This remains a dynamic and ever-changing situation.
Sincerely,
Dave Amberg
Interim President
03/16/2020
Recent ESF News
News Archives
Communications & Marketing
SUNY-ESF
122 Bray Hall
1 Forestry Drive
Syracuse, NY 13210
315-470-6644