SHARE:
3-17-20 Message from the Interim President: Student buses and employee telecommuting


3/17/2020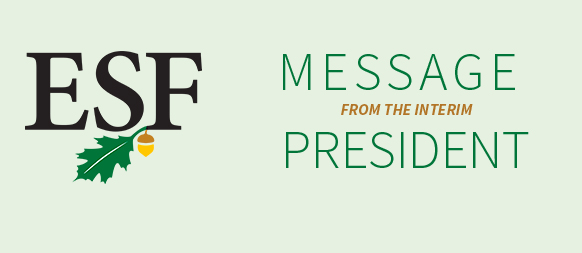 Dear ESF Community:
The unknowns surrounding COVID-19 are many. Every day we get new information from our government leaders to help us make informed decisions, create viable options, and continue to do the superb work we do to provide a quality education for our students. ESF's coronavirus webpage is updated regularly with messages about and resources for COVID-19. Please check it regularly to make sure you are up to date on this dynamic event.
I write today to share important updates:
In concert with the Governor's directive and Syracuse University, ESF will provide virtual instruction through the end of the Spring 2020 semester. To assist students who currently remain in Centennial Hall, Syracuse University has made arrangements for buses to depart from Syracuse University to major cities such as New York, Philadelphia, Boston, Rockaway, NJ, and Washington, DC, TODAY at 3:00 PM. Students are not required to leave Centennial Hall at this time, but are strongly encouraged to do so providing they are able to receive online instruction remotely. This will help our students still on campus get home should they wish to do so. We expect that buses to additional locations will be added based on demand. Consistent with best social distancing practices, buses are limited in capacity so we can stagger seating. Interested students should contact David F Sargalski (dfsargal@syr.edu; (315) 443-2718) to reserve a seat. Students who left the Syracuse campus for spring break will be welcomed back when the college returns to residential instruction. If you have questions, please call the Office of Student Affairs at 315-470-6660 or the Centennial Hall front desk at 315-741-3067.
Additional information regarding move out procedures and applications for continued housing due to special circumstances will be forwarded to Centennial Hall residents this afternoon.
Beginning today, all non-essential employees, should work with their supervisors to develop a plan to work from home under a new Telecommuting Pilot Program designed to help limit the spread of COVID-19. The program, which is subject to amendments, was created through agreements with CSEA, PEF and UUP, and also applies to M/C employees. We expect it will remain in effect through May 14, 2020. Essential employees will be asked to work from campus. Non-essential employees will be asked to work from remote locations, to the extent they are able. Please see the following definitions and discuss the Pilot Program with your supervisor.
Essential employees are defined as those whose job function is essential to the effective operation of the college. The term also applies to employees who must be physically present to perform their job, and those who are involved in the COVID-19 emergency response.
Non-essential employees should be considered any person who does not need to be physically present to perform their job functions, and/or they are not currently required to meet the core functions of the College during this emergency response. The goal is to de-populate campus.
Employees will not be charged their accruals to fulfill this directive. Non-essential employees must contact their supervisor or a designated contact (preferably via email) no later than one hour prior to their regular start time, so any change in status can be communicated.
Your supervisor will be making the decision whether you are a non-essential employee who can work from home.
As the operational needs of the response shift, please know your status may change and your duties may be modified. Supervisors may change an employee's designation from either essential or non-essential at any time.
Supervisors, please notify your employees of their status (essential vs. non-essential) as soon as possible and provide a list of those determinations to Human Resources. In your notification, please be sure to include the following information: all telecommuters will be required to submit a work plan that includes hours worked and work completed. Employees must treat a telecommuting day as a regular workday in which the employee must maintain a regular work routine. We expect additional details from SUNY, including forms that will need to be completed, today.
Anyone who has questions about the new program or an employee's ability to work from home should contact Human Resources.
Sincerely,
Dave Amberg
Interim President
Recent ESF News
News Archives
Communications & Marketing
SUNY-ESF
122 Bray Hall
1 Forestry Drive
Syracuse, NY 13210
315-470-6644