SHARE:
3-19-20 Message from the Interim President: Campus building restrictions and quarantine procedure


3/19/2020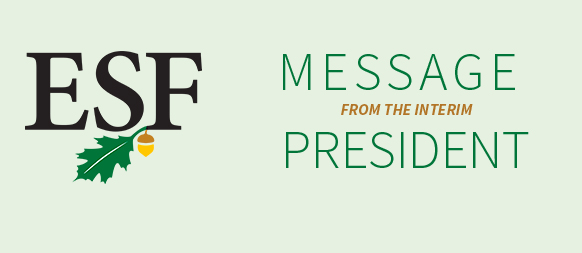 Dear Faculty and Staff,
I appreciate all the hard work and effort that faculty and staff have put into bringing classes online. I understand there will be challenges and rough spots, but we will be successful. Today, the Governor has instructed us to reduce our on-campus workforce to 25%. That directive, in concert with the realization that COVID-19 has reached Onondaga County and our community, and our continual effort to reduce the population density on campus, has led us to two decisions today.
Students will not be allowed in several buildings until further notice. These buildings include the library, computer labs, research labs, and the landscape architecture studios. Other facilities may be added to the list at a later date. We will keep you updated and will notify you when the restriction is lifted.
In addition, as the COVID-19 virus spreads further into our communities, we are faced with unprecedented measures of containment. These measures require us to change our plans and behavior in order to remain committed to our own health and safety and that of our families and our communities. As a result, I have authorized John Wasiel, Environmental Health and Safety Officer, to act on my behalf should the need arise to direct employees or visitors who present a health threat to immediately vacate the college premises. The following explains the criteria we are using to evaluate these situations.
Employees, students, visitors, and contractors are required to stay away from campus if they match with any of the following criteria. These criteria may be updated as circumstances warrant.
Anyone who has, or shares a living residence with someone who has had symptoms of acute respiratory illness or fever within the previous 14 days
Anyone who has, or shares a living residence with someone who has had contact with someone known to have COVID-19 or who has symptoms of acute respiratory illness or fever
Anyone required by the NYS DOH to be under mandatory or self-quarantine
Additionally, anyone who has, or shares a living residence with someone who has traveled within the previous 14 days to areas of known COVID-19 cases, and spent time in public areas such as airports, conferences, hotels, restaurants, on airplanes or buses, etc., must consult with their supervisor and the EH&S Office prior to returning to campus. The purpose of this consultation is to determine the extent of participation in mass gatherings, particularly in higher risk areas. Indications of increased risk exposures may prompt exclusion from campus, or require additional social distancing and other precautions as a condition of being on campus.
Sincerely,
Dave Amberg
Interim President
Recent ESF News
News Archives
Communications & Marketing
SUNY-ESF
122 Bray Hall
1 Forestry Drive
Syracuse, NY 13210
315-470-6644