SHARE:
3-20-20 Message from the Interim President: Classes resume March 23


3/20/2020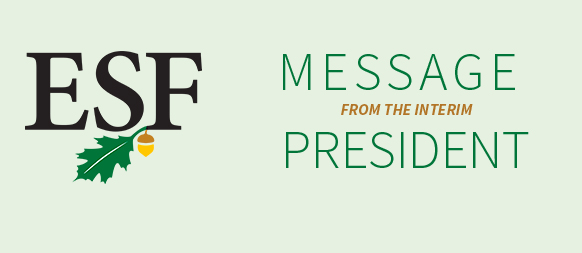 Dear Students,
Along with all of SUNY and likely thousands of universities around the globe, ESF is working to provide continuity in the face of the COVID-19 pandemic. While everything that we are familiar with has seen disruption, continuity is also an important factor in dealing with the disruption. ESF is working to provide academic continuity in teaching and learning as directed by the Governor, and as our primary reason for being.
Classes will resume on Monday, March 23, but not as any of us expected (obviously). In addition to instructor efforts to make courses available to you, we are also here to support you as students. We have launched a few things to help you transition to online learning. First, all ESF students (undergraduate and graduate) and all Spring semester instructors have been enrolled in a Blackboard course ESF 100: Online Learning Orientation. There you will find guidance for navigating online learning tools and strategies for online learning. We will be adding to this course regularly. In addition, we have prepared a GoogleDoc, the Academic Continuity Online Student Guide: https://docs.google.com/document/d/1mqvDXovqM5AxQi7QS9cbRZ8RDvTvP7XFDrb5hh_Ws-Y/
This document provides information about learning and ESF from the perspective of online students, as well as guidance about how to connect to Blackboard if you have not done that before. It too will be updated regularly to hopefully provide a "one-stop-shop" for online learning at ESF.
No one is expecting the transition or ability to maintain continuity to go smoothly, and we also realize that non-ESF issues may have priority in the coming days and weeks. We hope this will help.
Sincerely,
Dave Amberg
Interim President
Recent ESF News
News Archives
Communications & Marketing
SUNY-ESF
122 Bray Hall
1 Forestry Drive
Syracuse, NY 13210
315-470-6644