SHARE:
3-21-20: Message from the Interim President: Governor Andrew Cuomo's request to stay at home


3/21/2020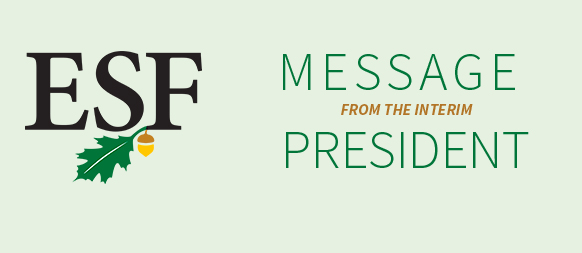 Dear ESF Students,
I hope you've had an restful spring break. Your faculty have been working diligently to bring your classes online and are ready for classes to begin virtually on Monday, March 23. On behalf of the entire college community, I thank our great faculty for the incredibly difficult task they have had over this week and the coming weeks. Students, please express your personal gratitude to our faculty.
As you're preparing to finish up the Spring 2020 semester, please consider Governor Andrew Cuomo's request to stay where you are with your family and not return to Syracuse. It is true that we had hoped that COVID-19 would not find upstate NY, and in particular Syracuse, but it has. And while it is believed that you are less likely to show the most serious symptoms of the disease, your age group is certainly susceptible. According to the World Health Organization, globally there are almost 210,000 confirmed cases of people with COVID-19 and nearly 9,000 people have died from the disease. For your safety, we strongly encourage you to stay home and complete the semester from your permanent residence.
As a reminder, please know that effective Sunday, March 22, several buildings on the Syracuse campus will not be available to students. These include the library, computer labs, research labs, and landscape architecture studios. Other facilities may be added to the list at a later date. This is a temporary decision. We will lift this restriction as soon as it is safe to return to these buildings. In addition, because of COVID-19, many area facilities that you're used to visiting - including Syracuse-area gyms, libraries, bars, and restaurants - are now closed.
ESF's faculty and staff have prepared the resources and tools that you need to be successful from your current location. ESF cares deeply about the health, safety, and well-being of our campus community. For your safety and the safety of those around you, I urge you to reconsider any plans to return to Syracuse.
Sincerely,
Dave Amberg
Interim President
Recent ESF News
News Archives
Communications & Marketing
SUNY-ESF
122 Bray Hall
1 Forestry Drive
Syracuse, NY 13210
315-470-6644