SHARE:
3-22-20: Message from the Interim President: Returning Students and the "New York State on PAUSE" executive order


3/22/2020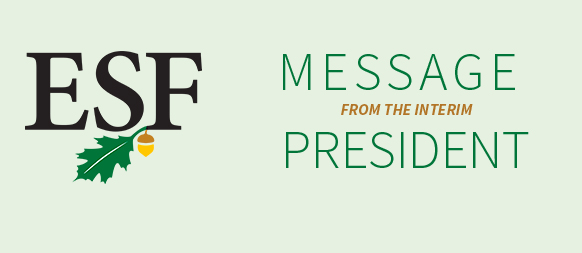 Dear ESF Students,
Online classes start tomorrow. It is my hope that many of your will log into your classes virtually from the safety of your permanent residence and you chose to remain at home with family. However, I understand that some of you are still planning to return to Syracuse and your off-campus housing to complete the Spring 2020 semester. There are a few things I need you to know, before you absolutely make your final decision. It's not too late to stay home with your families.
In addition to the facilities mentioned in previous messages that students will not be able to access (library, computer labs, research labs, landscape architecture studios), we have also had to temporarily close Beth's Bounty, our food pantry. Staffing levels on campus are down to approximately 10% of normal levels, which makes it very difficult to provide the level of service you have come to expect. It is absolutely imperative that you practice social distancing. This means there must be 6 feet between you and others. Similarly, good hygiene continues to be a must.
If you begin to show symptoms of COVID-19 (fever, cough or shortness of breath) go to the Upstate Medical University COVID-19 Update Center and use the Upstate Coronavirus Assessment Tool to determine your next steps. The Upstate Medical COVID-19 Triage Number is 315-464-3979.
As a reminder, you will be expected to follow all local, state, and federal laws and directives, including Governor Cuomo's "New York State on PAUSE" executive order, a 10-point policy to assure uniform safety for everyone that goes into effect tonight at 8:00 p.m. The points are as follows:
The Governor's 10-point NYS on PAUSE plan is as follows:
Effective at 8PM on Sunday, March 22, all non-essential businesses statewide will be closed(all of the places you normally go to relax - gyms, restaurants, bars - are closed);
Non-essential gatherings of individuals of any size for any reason (e.g. parties, celebrations or other social events) are canceled or postponed at this time (those parties that are usually a normal part of ESF life are now not allowed);
Any concentration of individuals outside their home must be limited to workers providing essential services and social distancing should be practiced;
When in public individuals must practice social distancing of at least six feet from others;
Businesses and entities that provide other essential services must implement rules that help facilitate social distancing of at least six feet;
Individuals should limit outdoor recreational activities to non-contact and avoid activities where they come in close contact with other people;
Individuals should limit use of public transportation to when absolutely necessary and should limit potential exposure by spacing out at least six feet from other riders;
Sick individuals should not leave their home unless to receive medical care and only after a telehealth visit to determine if leaving the home is in the best interest of their health (the healthcare facilities in Syracuse are nearing capacity);
Young people should also practice social distancing and avoid contact with vulnerable populations; and
Use precautionary sanitizer practices such as using isopropyl alcohol wipes.
Students who knowingly violate directives could face disciplinary action in multiple ways, beginning with the College's Code of Student Conduct. You are part of the greater Syracuse community, and you consistently make us proud with our responsible and forward-thinking actions. We look forward to the same level of civic responsibility during these challenging times.
Sincerely,
Dave Amberg
Interim President
Recent ESF News
News Archives
Communications & Marketing
SUNY-ESF
122 Bray Hall
1 Forestry Drive
Syracuse, NY 13210
315-470-6644